Egg Tempera Paint
You will need one egg for each child and a cup for each yolk and a bowl for the egg whites.
Food coloring or tempera paint
Small mat boards and Paintbrushes
Have each child crack an egg and separate the yolk from the white, placing the yolk into a small paint cup with tempera paint and mix. Ready – set – paint! If paint thickens, add a few drops of water. The kids can share colors. It makes bright shiny pictures.
Salt Paint Frosting
Mix 2 teaspoons of salt with 1 teaspoon of liquid starch.
The salt gives it a frosted appearance.
Paint over picture to add snowy appearance.
You can add color if you wish.
Shiny Paint
Mix 1 part liquid glue and 1 part tempera paint and paint!
It will retain a wet look after it dries.
Spangled Salt Paint
This paint has a beautiful texture and adds sparkle. Great for an underwater fish scene!
1 tsp. liquid starch
1 tsp. water
½ tsp. liquid tempera paint
2 tsp. table salt
Mix the starch, water, and paint together in a saucer. Stir in the salt and get out the brushes!
Magic Crystals
You will need:
2 cups water,
2 cups Epsom salts
Food coloring.
Stir and bring water and epsom salts to a boil . You may color it or leave it clear. It will dry to make clear or colored crystals You can use it to make a picture glisten with snow.
Extra Bright Tempera Paint
2 cups dry tempera paint
1 cup liquid soap (clear or white works best)
1 cup liquid starch
Color Match
Sidewalk Paint
This paint is non-toxic and biodegradable. You will need:
1 cup water
1 cup powdered nonfat milk
1/4 teaspoon icing or regular food coloring
paint brushes and sponges
Mix ingredients and go to work painting. This can be washed away with a hose.
Raindrop Painting
A lot of fun to do on a rainy day!
Talk about water and the water cycle
It's a teachable moment!
Have children paint a solid color od tempera paint all over a piece of paper( a darker color shows better drops)
when dry, go outside for a few seconds and let the raindrops make their picture!
It only takes a second to collect a few raindrops!
Cheap and easy paint
Mix 1 cup of salt, 1 cup of flour, 1 cup of water and food coloring in a condiment bottle to create cheap and easy paint.
Painted Snakes – Curly willow branches are great for this. Have posters, models or pictures of snakes. Kids paint the curly willow branches with tempera paint and glue a red felt split tongue at the mouth.
Paint a tablecloth!
Bottle Cap Animals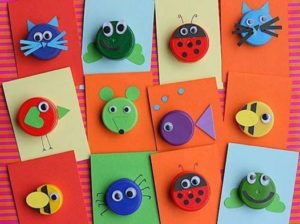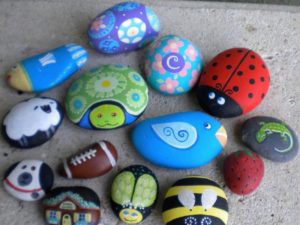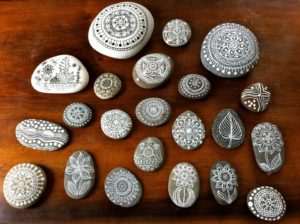 A little glue shaving cream paint for puffy snow.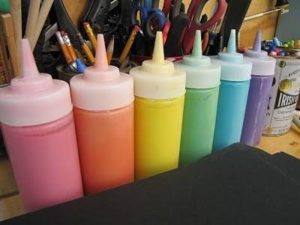 KETSUP BOTTLES MAKE GREAT DISPENSERS FOR PAINT TOO!
Cover a balloon with paint and then pop it!