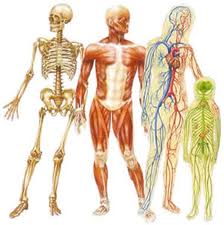 Our Amazing Body!
The CELL is the basic unit of LIFE. There are billions of cells in your body. Each cell has special work to do for your whole body. Like cells combine into tissues like muscle, nerve, bone. Tissues combine into organs like your heart and lungs. Organs combine into systems like your circulatory, digestive, or skeletal system. There are over 50 trillion cells in the body / more cells than stars in our galaxy. Many cells are so small that 100,000 can fit on a pinhead. Cells work like people in a big city: some handle food, some send messages, some keep things clean. Each cell is protected by a cell membrane that surrounds it. There are strings of genes in cells that contain information from your parents that determine much the way you are. Cells are always dieing and being replaced. Skin completely replaces itself about once a month.
Our body is 70% water and has enough carbon to make the lead for 9000 pencils.
Our greatest gifts are our brain and our hands.
We grow 25 feet of HAIR in a lifetime.
The most sensitive part of the body is the tongue. The most flexible muscle in our body is the tongue! It can also be the most dangerous! The least sensitive part of the body is the middle of the back.
Animals can run faster than we can but we have more endurance and can outrun over long distances
The skull contains the holes for receiving food, water, and oxygen.
The lungs almost fill the thorax above the diaphragm. Most of the body's hormones are produced in the abdomen below the diaphragm.
Organs of the systems of our body:
SKELETAL SYSTEM: BONES AND LIGAMENTS
NERVOUS SYSTEM: BRAIN, SPINAL CHORD, AND NERVES
DIGESTIVE SYSTEM: TEETH, TONGUE, ESOPHAGUS, STOMACH, SMALL INTESTINES, LARGE INESTINES,
LIVER, PANCREAS.
CIRCULATORY SYSTEM: HEART, ARTERIES, CAPPILLARIES, AND VEINS
MUSCULAR SYSTEM: MUSCLES, TENDONS, AND CARTILAGE