Cauliflower Steaks
1 large head of cauliflower
1/2 cup olive oil, divided
2 teaspoons kosher salt, divided
1 teaspoon freshly ground black pepper, divided
8 ounces green beans, trimmed
3 garlic cloves, finely chopped
3/4 teaspoon finely grated lemon zest
1/3 cup chopped parsley, plus more for serving
1/3 cup panko
1/4 cup freshly grated Parmesan
1 (15-ounce) can white beans, rinsed, drained
1 cup golden or red cherry tomatoes halved
3 tablespoons mayonnaise
1 teaspoon Dijon mustard
Arrange racks in middle and upper third of oven; preheat to 425°. Remove leaves, and trim stem leaving the center root intact. To serve 4, use 2 heads of cauliflower.
Place core down on work surface and slice from top to bottom reserving remaining cauliflower for another use.
Place cauliflower on a baking sheet and brush sides with 1Tbsp. oil; season with salt and pepper and roast until tender (30 minutes.)
Toss green beans with 1 Tbsp. oil, 1/2 tsp. salt, and 1/4 tsp. pepper on another rimmed baking sheet. Arrange in a single layer, and roast until blister, about 15 minutes.
Whisk garlic, lemon zest, 1/3-cup parsley, and 6 Tbl. oil, 1¼ tsp. salt, and ½ tsp. pepper in a medium bowl and transfer half of mixture to another bowl. Add panko and Parmesan to first bowl and mix. Add white beans and tomatoes to second bowl and toss to coat.
Whisk mayonnaise and mustard in a small bowl. Remove sheets from oven. Spread mayonnaise mixture over cauliflower. Sprinkle 1/4-cup panko mixture evenly over cauliflower. Add white bean mixture to sheet with green beans and toss. Return sheets to oven and continue roasting until white beans are crisp and panko browns, 5–7 minutes. Top with parsley.
Baked Sweet Potato Latkes
2 pounds grated sweet potatoes
1 medium onion, finely chopped
2 eggs, beaten
¼ cup flour
¼ teaspoon baking powder
½ teaspoon salt
½ teaspoon ground cinnamon
¼ teaspoon ground nutmeg
Preheat oven to 400ºF. Coat baking sheets with cooking spray. In a large bowl, combine all ingredients. Drop by quarter-cupfuls onto the baking sheets and flatten with a spatula. Bake for 25 minutes. Turn and bake for an additional 10 minutes.
Lemongrass Rice
2 tablespoons coconut oil
1/4 teaspoontumeric
2/3 cup finely chopped onion
3/4 cup water
2 stalks Lemongrass, cut into2 inch pieces
1 large green onion
1 cup of long grain white rice
Salt & Pepper to taste
Put 1 1/2 tablespoons of the oil in saucepan and heat on medium. Add onion andtumeric. Sauté 5 minutes until tender, add rice and mix. Add water, lemongrass, and salt to taste, and bring to a simmer. Cover and reduce heat. Cook until rice is tender and liquid is absorbed – 15-20 minutes. Remove from heat and let stand for about 10 minutes. Remove and discard the lemongrass. Heat remaining oil and add green onion. Sauté just to heat through, and add to rice mixture.
Green Bean Casserole
1.5 lb. green beans
1.5 cups Coconut Milk
3/4 cups of almond meal (for topping)
8 oz mushrooms chopped
1 onion diced
Sea Salt
Fresh pepper
2 cloves garlic
1 Tbsp Virgin Coconut Oil
1 Tbsp Organic Tapioca Starch
Clean and steam green beans and put in cold water to stop cooking. Put green beans in medium size baking dish. Cook the onions, mushrooms and garlic until soft in the ghee or grass fed butter. Add to the green beans and arrange evenly. Mix Coconut milk and Organic Tapioca Starch and pour the mixture over green beans. Add salt and pepper over whole dish. Bake on 350 for 30 min, add almond meal to top then heat for 3-5 more min. Let dish cool 10 min before serving
Tomato-Cheddar Pie
Crust:
½ tsp kosher salt
½ tsp sugar
1 ¼ cups all-purpose flour, plus more for surface
½ cup (1 stick) cold unsalted butter, cut into cubes
For the filling:
3 large tomatoes (about 2 pounds), sliced 1/4″ thick
¾ tsp kosher salt, divided
All-purpose flour (for surface)
1 cup finely chopped Vidalia onion
1/2 tablespoon unsalted butter
1½ cups grated sharp cheddar (4 ounces)
½ cup mayonnaise
¼ cup coarsely chopped fresh herbs (basil, oregano, parsley, or thyme)
1 tsp mild hot sauce
½ tsp freshly ground black pepper
Crust:
Mix salt, sugar, and 1¼ cups flour until combined. Add butter and mix until it resembles coarse meal with a few pea-size pieces of butter remaining, Add ¼ cup ice water and mix until dough holds together. Squeeze a small amount of dough between your fingers; if it's very crumbly, add more ice water, 1 Tbsp. at a time (2 Tbsp. max). Do not over-process.
Turn dough onto a lightly floured surface and form a rough ball. Knead a few times and roll into a ball. Flatten ball into a disc with smooth edges, cover and chill 1 hour.
Filling
Line a rimmed baking sheet with several layers of paper towels. Arrange tomato slices on prepared sheet, sprinkle with 1/4 tsp. salt, and cover with more paper towels. Let drain at least 30 minutes.
Position rack in bottom rung of oven and preheat to 350°F. After dough is chilled, lightly flour work surface and roll out dough to a 13″ round. Roll dough loosely around rolling pin and release into pie pan. Trim edges to leave a 1″ overhang and crimp as desired. Freeze dough at least 15 minutes.
Line crust with parchment paper or foil and fill bottom with baking beans or weights. Bake crust, rotating halfway through, 20 minutes. Remove weights, pierce bottom of crust all over with a fork, and bake again until very light brown and dry, about 10 minutes more. Heat a skillet and add onion, butter, and ¼ tsp. salt, stirring occasionally, until onion is softened and browned. Let cool. Combine cheese, mayonnaise, herbs, hot sauce, pepper, onion mixture, and remaining ¼ tsp. salt in a medium bowl. Blot tomatoes to remove remaining moisture. Arrange slices in pie shell and top with filling; smooth. Bake pie, rotating halfway through, until golden brown, 40–45 minutes. Let cool to room temperature before slicing.
Easy Broccoli or Spinach Casserole
Chopped broccoli or chopped spinach (cooked and drained). Add ½ stick of melted margarine or butter,1 egg, ½ cup grated cheese sharp cheddar, ½ cup of mayonnaise, 1 med chopped onion, and ½ cup cream of chicken or cream of mushroom soup. Combine above. Sprinkle Ritz cracker or Saltine cracker crumbs over top. Bake at 350 for 30-45 minutes
Roasted Red Pepper , Tomato, and Ricotta
4 red bell peppers, halved, seeds and ribs removed
6 oil-packed anchovy fillets, finely chopped
4 garlic cloves, thinly sliced
1 cup basil leaves, divided
Kosher salt, freshly ground pepper
2 tablespoons plus 1/3 cup olive oil
1 pint cherry tomatoes, halved
1/3 cup fresh ricotta
1/4 cup pitted small black and/or green olives
Flaky sea salt
Preheat oven to 375°F. Place bell peppers, skin side down, in a shallow baking dish and top with anchovies and garlic. Tear 1/4 cup basil leaves over top, season with kosher salt and black pepper, and drizzle with 2 Tbsp. oil. Bake until peppers are tender but still hold their shape and are slightly charred around edges, 35–45 minutes. Let cool.
Blend remaining 3/4 cup basil and remaining 1/3 cup oil in a blender until smooth; season basil oil with kosher salt and black pepper. Arrange bell peppers on a platter. Top with tomatoes, ricotta, olives, and more basil, then drizzle with basil oil and season with sea salt and black pepper.
Celery is a vegetable that we often eat raw as well as cooked and it has so many wonderful benefits for us. It is a strongly alkaline food that helps to counteract acidosis, purifies the bloodstream, aids in digestion, prevents migraines, relaxes the nerves, reduces blood pressure, and clears up skin problems. Celery contains compounds called coumarins that are known to enhance the activity of certain white blood cells and support the vascular system. Celery's rich organic sodium content has the ability to dislodge calcium deposits from the joints and holds them in solution until they can be eliminated safely from the kidneys.
It is a natural diuretic and has the ability to flush toxins out of the body. Celery also has significant anti-inflammatory properties making it an essential food for those who suffer from autoimmune illnesses. It contains significant amounts of calcium and silicon that can aid in the repair of damaged ligaments and bones.
Celery is rich in vitamin A, magnesium, and iron which all help to nourish the blood and aid those suffering from rheumatism, high blood pressure, arthritis, and anemia. Fresh celery juice is one of the most powerful and healing juices one can drink. Just 16 oz of fresh celery juice a day can transform your health and digestion in as little as one week.
Fermented Beets
Beets contain important natural antioxidants and are rich in betaine, which stimulates liver cell function enabling the body to eliminate toxins properly. You turn it into a superfood with pickling.
Health Benefits of Fermented Foods
To reap the benefits, pickling needs to be done naturally – meaning no vinegar. Water and salt will do the trick. This produces lacto-fermentation. Lacto-fermented foods are vegetables placed in a brine of salt and water for a period of time at room temperature in order to let beneficial bacteria develop. You can ferment any vegetable and it will yield high amounts of probiotics, mostly Lactobacilli that creates lactic acid. Lactic acid protects fermented food from being invaded by pathogenic bacteria. The live organisms are naturally acid resistant and are able to repopulate beneficial organisms in your gut. Lacto-fermented vegetables are more easily assimilated. As well as creating a naturally occurring probiotic supplement, fermentation adds other nutritional benefits. Lactic acid keeps vegetables and fruits in a state of perfect preservation and promotes the growth of healthy flora in the intestine. Fermented foods are the most potent source of beneficial bacteria capable of cleaning your body of toxins and heavy metals.
How to Make Naturally Fermented Pickled Beets
6 medium beets
1/2 tsp. sea salt
2 cups water
Optional Seasonings: mustard seeds, coriander seeds, fennel seeds, cinnamon stick, cloves
Wash and dry the beets. Poke the beets in several places, place on a baking sheet and bake at 300 degrees for about 3 hours or until soft. Peel off the skin and chop into julienne type slices. Pack beets firmly into a wide-mouth quart-sized canning jar. Make a brine of sea salt dissolved in water. Pour brine over the beets until the liquid is 1 1/2 inches from the top of the jar. Beets need to be submerged in brine.
Cover tightly and keep at room temperature for about 3 days before transferring to cold storage.
Homemade Sauerkraut
A simple recipe to make traditional, lacto-fermented, homemade sauerkraut using only cabbage, salt and time.
2 medium cabbage heads ( 4 to 5 pounds, cored and finely shredded)
2 tablespoons sea salt
Toss cabbage and salt together in a large mixing bowl and squeeze the cabbage and salt together with your hands to break up the cellular structure of the shredded cabbage. When cabbage is limp and releases its juice, transfer it to a sauerkraut crock. Pack the salted cabbage into the crock tightly, eliminating air bubbles, until the cabbage is submerged by liquid. Cover loosely and allow it to sit at room temperature, undisturbed, for at least a month and up to 6 months, testing the sauerkraut every few days until it is done to your liking. Transfer to the refrigerator where it should keep for 6 months and up to 1 year.
If scum appears floating in the brine of sauerkraut, spoon it off. The key to preparing any fermented food is that the solid materials rest below the liquid. Fermentation is an anaerobic process and to expose your ferments to air increases the likelihood of contamination by microbes, yeasts and molds.
1 (approx 2lb) head of organic green cabbage, cut into 1″ thick slices 1.5 tablespoons olive oil
2 to 3 large smashed garlic cloves
kosher salt
freshly ground black pepper
olive oil
Preheat oven to 375F and oil baking. Pull outer leaf off cabbage, cut cabbage from top to bottom (bottom being root) into 1″ thick slices. Rub both sides of cabbage with smashed garlic. Use a pastry brush to evenly spread the olive oil over both sides of the cabbage slices. Sprinkle each side with a bit of kosher salt and freshly cracked black pepper. Roast on the middle rack for 25 minutes. Carefully flip the cabbage steaks and roast for an additional 25 minutes until edges are brown and crispy. A very nice optional condiment would be adding balsamic vinegar on the top when finished cooking.
The Benefits of Sauerkraut Sauerkraut is a probiotic food. The lactic acid process that preserves sauerkraut is ripe with probiotic power. You will find is a product brimming with healthy probiotics that will help ensure good gut health. Because of antibiotic use, and even the chlorine in our water, the healthy bacteria in our systems are often beaten down. Including naturally fermented foods such as sauerkraut is an excellent way to rebuild healthy gut bacteria levels.
Sauerkraut is a good source of vitamin C
Sauerkraut has cancer-fighting properties Most of us know that broccoli, cabbage and cauliflower are excellent foods for helping prevent cancer. A Finnish study found that beyond the normal benefits of cabbage, sauerkraut has even more cancer-fighting powers. It was found that through the fermentation process, isothiocyanates were produced that prohibit the growth of cancer. Glucosinolates in sauerkraut were found to help activate the body's natural antioxidant enzymes, and the flavonoids in it are help protect artery walls from oxidative damage. The study concluded that sauerkraut is an even better choice than raw cabbage for cancer-fighting properties.
Sauerkraut is a traditional ulcer treatment
Cabbage is an excellent source of vitamin U, which can help heal peptic ulcers. Raw cabbage juice is an effective treatment for peptic ulcers.
SPICY WHOLE ROASTED CAULIFLOWER
1 tablespoon vegetable oil
1 head cauliflower
1½ cups plain Greek yogurt
1 lime, zested and juiced
2 tablespoons chili powder
1 tablespoon cumin
1 tablespoon garlic powder
1 teaspoon curry powder
2 teaspoons kosher salt
1 teaspoon black pepper
Preheat oven to 400°. Lightly grease a small baking sheet and set aside. Trim the cauliflower to remove green leaves and woody stem. In a medium bowl, combine the yogurt with the lime zest and juice, chili powder, cumin, garlic powder, curry powder, salt and pepper. Dunk the cauliflower into the bowl and use a brush or your hands to smear the marinade evenly over its surface. Place the cauliflower on the prepared baking sheet and roast until the surface is dry and lightly browned, 30 to 40 minutes. The marinade will make a crust on the surface of the cauliflower.
Let cool for 10 minutes before cutting into wedges and serving.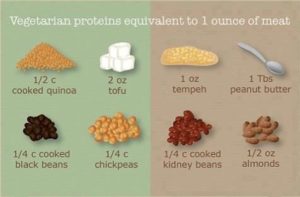 Butternut Squash Gratin
3 tablespoons unsalted butter
1 (2 -pound) butternut squash
3/4 teaspoon fine sea salt
1/2 teaspoon freshly ground black pepper
1/3 cup grated Pecorino Romano cheese
2 tablespoons fresh thyme leaves
1/2 cup heavy cream
Preheat oven to 350°F. Butter a 9-inch baking dish. Peel and seed squash and slice thinly. Layer squash in baking dish, sprinkling some salt and pepper between each layer. When dish is half filled, sprinkle 1/2 of cheese and thyme over squash. Continue layering with salt and pepper. Pour cream evenly over top layer and sprinkle with remaining cheese and thyme. Cover baking dish with foil and bake until tender, about 45 minutes. Remove foil from baking dish and broil gratin until top is browned about 4 minutes.
Roasted Cabbage
1 tsp olive oil
2 tbsp real bacon bits
2 tbsp lemon juice
1 tbsp worstershire sauce
1/4 tsp kosher salt
1/4 tsp ground black pepper to taste
1 Medium Head of Cabbage
Preheat oven (or grill) to 425 degrees. Mix the olive oil, bacon bits, lemon juice, worstershire sauce, salt and pepper to make the marinade. Rinse cabbage under water, remove loose leaves, and cut the head in half on the core. Cut the halves in half again to make quarters. Lay each wedge on a sheet of aluminum foil large enough to wrap it up in. Spoon about 2 tbsp of the marinade on top and wrap each wedge and bake for 20-30 minutes.
BLOOMIN' ONION
Dipping Sauce
1/2 cup mayonnaise
2 teaspoons ketchup
2 T cream-style horseradish
1/4 teaspoon paprika
1/4 teaspoon salt
1/8 teaspoon dried oregano
Dash ground black pepper
Dash cayenne pepper
The Onion
1 egg
1 cup milk
1 cup all-purpose flour
1 1/2 teaspoons salt
1 1/2 teaspoons cayenne pepper
1/2 teaspoon ground black
1/4 teaspoon dried oregano
1/8 teaspoon dried thyme
1/8 teaspoon cumin
1 giant Spanish onion (3/4 pound or more)
Vegetable oil for frying
Prepare dipping sauce by combining all of the ingredients in a small bowl. Keep sauce covered in refrigerator until needed. Beat egg and combine with the milk in a medium bowl big enough to hold the onion. In a separate bowl, combine the flour, salt, peppers, oregano, thyme, and cumin.
Slice ¾ inch to 1 inch off the top and bottom of onion. Remove papery skin. Cut a 1-inch diameter core out of the middle of the onion. Slice the onion several times down the center creating the "petals" of the onion. Slice through the center of the onion about three-fourths of the way down. Turn onion 90 degrees and slice again in an "x" across the first slice. Slice the sections in half carefully until you've cut the onion 16 times. Do not cut to the bottom. Spread the "petals" of the onion apart. Onion sections tend to stick together, so you'll want to separate them to make coating easier.
Dip onion in milk mixture, and coat it liberally with the dry ingredients. Again separate the "petals" and sprinkle the dry coating between them. Once you're sure the onion is coated, dip it back into the wet mixture and into the dry coating again. Double dipping makes sure you have a well- coated onion because some coating tends to wash off when you fry. Let the onion rest in the refrigerator for 15 minutes while you get the oil ready. Heat oil in a deep fryer or deep pot to 350 degrees. Use enough oil to cover the onion when it fries. Fry the onion right side up in the oil for 10 minutes or until brown. Remove it from the oil and drain on a rack or paper towels. Open the onion wider from the center so that you can put a small dish of the dipping sauce in the center.
Baked Bloomin' Onion
1 large onion
For the Egg Wash:
3 eggs
¼ cup water
½ teaspoon paprika
½ teaspoon garlic powder
1 teaspoon yellow mustard
For the Crumbs:
¾ cup cornflake crumbs
¼ cup parmesan cheese or corn starch
1 teaspoon garlic powder
1 teaspoon paprika
1 teaspoon oregano
Cayenne pepper, salt, and pepper to taste
A couple tablespoons of melted butter and/or oil
Preheat the oven to 425ºF.
In a bowl, beat together the eggs, water, paprika, garlic powder, and mustard. In another bowl mix the cornflakes, parmesan or corn starch, garlic powder, paprika, oregano, cayenne, salt, and pepper and set aside.
Cut about 1/2 inch off the top of the onion and peel the skin off. Cut the tip of the root off so the onion can stand on it. Cut the onion into about eight wedges being very careful not to cut all the way through.
Dip onion in egg mixture, spooning it between each "petal". Once completely coated toss it in the crumbs, once again spooning it between each petal. Repeat this process, coating the onion once more in the egg mixture and then a final time again in the crumbs (use every bit of the crumbs you can).
Place on a greased baking sheet. Drizzle with melted butter and/or oil. Then you can give it a final spritz of cooking spray to make sure the whole thing is coated. Bake at 425ºF for about 45 minutes. Serve with Remoulade Sauce.
Remoulade Sauce
1 cup real mayonnaise (or sour cream for a creamier version)
¼ cup ketchup or chili sauce
1 tablespoon pickle juice or ½ tablespoon vinegar
½ teaspoon creole seasoning
2 teaspoons paprika
¼ teaspoon mustard
1-4 teaspoons prepared horseradish
1 large clove minced garlic (or 1/4 teaspoon garlic powder)
Salt and pepper to taste
Cayenne pepper to taste
A few drops of Tabasco
1 tablespoon freshly squeezed lemon juice
Optional add-ins: Finely chopped green onion, fresh parsley, celery, tomato, and/or red bell pepper
Mix all together. Keep refrigerated. Serve with seafood, sandwiches, burgers, chicken, fries, onion rings, and Bloomin' Onions.
Vegetable Tian
(thinly sliced veggies topped with cheese and roasted)
1 Tbsp. olive oil
1 medium yellow onion
1 tsp. minced garlic
1 medium zucchini
1 medium yellow squash
1 medium potato
1 medium tomato
1 tsp. dried thyme
salt & pepper to taste
1 cup shredded Italian cheese
Preheat the oven to 400 degrees. Finely dice the onion and mince the garlic and sauté in a skillet with olive oil until softened (about five minutes). While the onion and garlic are sautéing, thinly slice the rest of the vegetables. Spray the inside of an 8×8 square or round baking dish with non-stick spray. Spread the softened onion and garlic in the bottom of the dish. Place the thinly sliced vegetables in the baking dish vertically, in an alternating pattern. Sprinkle generously with salt, pepper, and thyme. Cover the dish with foil and bake for 30 minutes. Remove the foil, top with cheese and bake for another 15-20 minutes or until the cheese is golden brown
Lemon-Parmesan Asparagus Spears in Phyllo
4 tablespoons finely shredded Parmesan
1 tablespoon lemon zest
Olive oil
2 pieces phyllo dough, thawed overnight in the refrigerator
16 asparagus spears, coarse bottoms trimmed
Mint aioli (recipe follows) or mayonnaise mixed with minced mint and garlic
Mix Parmesan and lemon zest in a bowl. Oil a sheet pan and set aside. Place phyllo on counter and lightly rub each sheet with oil and sprinkle half of each with 2 tablespoons of cheese mixture. Fold each sheet in half and cut into eight 4-inch-wide pieces. Place an asparagus spear diagonally across a piece of phyllo and roll to wrap asparagus. Place wrapped asparagus seam-side down on the prepared sheet pan. You can tightly wrap the pan and chill for up to 24 hours before baking. Bake at 400 degrees until crisp and golden, about 20 minutes. Makes 16 asparagus spears.
Mint Aioli Recipe
1 clove garlic, peeled
1 large egg yolk
1 tablespoon lemon juice
¼ teaspoon salt
1 pinch cayenne
½ cup safflower or light olive oil (not extra-virgin olive oil)
½ cup fresh mint
Mince garlic in a food processor. Add yolk, lemon juice, salt and cayenne and puree. Gradually drizzle in oil while machine is running. Add mint and pulse to mix. Makes ½ cup mint aioli. If you prefer, mince garlic and mint and mix with 1/2 cup prepared high-quality mayonnaise.
Baked Sweet Potato Latkes
2 pounds grated sweet potatoes
1 medium onion, finely chopped
2 eggs, beaten
¼ cup flour
¼ teaspoon baking powder
½ teaspoon salt
½ teaspoon ground cinnamon
¼ teaspoon ground nutmeg
Preheat oven to 400ºF. Coat two baking sheets with cooking spray. In a large bowl, combine all ingredients. Drop by quarter-cupfuls onto the baking sheets and flatten with a spatula. Bake for 25 minutes. Turn and bake for an additional 10 minutes.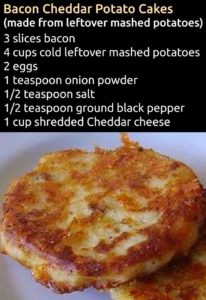 Caramelized Onions in a Slow Cooker
6 large yellow onions
2 tablespoons olive oil
Cut peeled onions in halves then quarters pole to pole. Cut quarters into 1/4 inch slices. Coat slow cooker with cooking spray. Add sliced onions and olive oil, toss to separate slices and distribute olive oil. Cover and cook on high for approx. 12-14 hours, until browned to desired color. Keep an eye on them the last few hours of cooking time; if they begin to burn around the edges, stir, recover, and continue cooking until caramelized throughout. You may eat or freeze small portions for future uses: pizza topping , omelets, sandwichs, with baked or mashed potatoes,
topping for meat, in sautéed greens, with past, in dips, and added to soups
Smashed Potatoes
2 lb small potatoes, like Yukon Gold
salt and black pepper to taste
1 tbsp olive oil
2 cloves garlic, peeled
1 tbsp minced fresh rosemary or 1 tsp dried
2 tbsp grated Romano or Parmesan
Place the potatoes in pot and fill with cold water to cover. Add 1 teaspoon salt and bring to a boil. Cook potatoes until just tender, about 20 minutes. Drain. When cooled, use your palm to carefully smash the spuds just enough to break the skin and flatten the potatoes. Heat oil in a large cast-iron skillet over medium heat. Add the potatoes in a single layer, along with the garlic and rosemary. Cook until the potatoes are browned and crispy on both sides. Add cheese last, to melts on top. Season with salt and pepper.
Braised Collards
2 pounds collards
2 tablespoons extra-virgin olive oil
1 small to medium onion, chopped
1 garlic clove, minced
1 teaspoon minced fresh ginger
½ teaspoon salt
Freshly ground black pepper, to taste
Pinch of ground allspice or dash of hot pepper sauce
2 tablespoons vinegar or fresh lemon juice
Remove stems and midribs from collards and chop into 1-inch pieces. Rinse chopped collards in cool water and drain. Add oil to a large skillet and warm over medium heat. Add the onion, garlic, and ginger and cook over medium-low heat about 5 minutes until translucent and golden. Add the collards and cook, stirring occasionally, until tender, about 15 minutes. Add up to ½ cup water, if necessary. When collards are tender, pour off excess liquid and cook until the pan is almost dry. Stir in salt and pepper to taste, allspice or hot pepper sauce and vinegar or lemon juice. Sometimes I will add only a few spoons of hot pepper for seasoning. This is quick and delicious!
Herb Stuffed Tomatoes
4 medium tomatoes (ripe but firm)
1/2 teaspoon salt
1 large onion finely chopped
2 garlic cloves finely chopped
12 wrinkly black olives, pitted and roughly chopped
2 tablespoons olive oil
1/4 cup panko (Japanese bread crumbs)
2 tablespoons chopped oregano
3 tablespoons chopped parsley
1 tablespoon chopped mint
1 1/2 tablespoons chopped capers
1/4 teaspoon black pepper
Preheat the oven to 325 F. Trim off the top of each tomato and discard. Remove seeds and most of the flesh leaving a shell. Lightly salt the inside of the tomatoes and place upside down in a colander, to drain off some moisture.

 Put the onion, garlic, olives, and 1 tablespoon of the oil in a medium pan and cook on low heat for 5 to 6 minutes, to soften the onion completely. Remove from the heat and stir in the panko, herbs, capers, and some pepper. Taste and add salt.
 Wipe the insides of the tomatoes with a paper towel, then fill them up with herb stuffing, pressing down gently to get a nice dome of stuffing on top. Place the tomatoes in a greased ovenproof dish and drizzle lightly with the remaining oil. Bake for 35 to 45 minutes until the tomatoes soften.
Broiled Tomatoes
Four large tomatoes
1teaspoon salt
Freshly ground black pepper
4 teaspoons extra-virgin olive oil
4 tablespoons chopped fresh herbs (basil, thyme, marjoram, oregano, or rosemary)
4 teaspoons fresh breadcrumbs
4 teaspoons freshly grated Parmesan cheese
Cut off a half-inch slice from the stem end of each tomato. Remove any remaining core. Season cut ends of each tomato with ¼ teaspoon salt. Place cut end down on a rack or paper towel and let drain for 30 minutes. Blot dry with a paper towel. Preheat oven broiler. Line a broiler pan with foil. Place tomatoes cut side up on the prepared pan. Season with pepper to taste and sprinkle 1 tablespoon of fresh herbs over the top of each tomato. Drizzle each tomato with 1 teaspoon of olive oil. Broil until hot, and the tops begin to brown, 5 minutes.
Combine the breadcrumbs and cheese and divide evenly among the tomatoes. Broil until the cheese is melted, about a minute.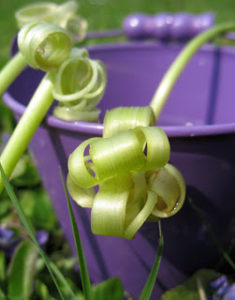 Dandelion greens
Cut the roots off and rinse the greens under running water. Cut the bigger leaves in half and put them into a pot with salted boiling water for about 10 minutes.
Heat 2 tablespoons of olive oil in a skillet and sauté half a chopped onion and one sliced garlic clove until soft. Drain and rinse the greens and add them to the onion and garlic in the skillet till nice and hot. Salt and pepper to taste.
Dandelion greens are a great source of dietary fiber, vitamin A, C, E, K, thiamin, riboflavin, B6, calcium, iron, potassium and manganese.
Saute Dandelion Greens
Sauté chopped onions (and maybe a little garlic) in a bit of olive oil until they become translucent, then add the greens with a little rinse water clinging to them and steam until the greens are soft. Add dandelions to soup. If you've never eaten dandelions, prepare and eat a small amount before you begin harvesting in earnest. Those who boiled dandelion greens in water often made a point of drinking the "pot likker" or cooking water, which was, in fact, loaded with water-soluble vitamins.)
Eggplant Mozzarella Rolls
2 medium eggplants, ends trimmed
Kosher salt and freshly ground pepper
1 cup grated fresh mozzarella (1/2 pound)
4 ounces mild, soft goat cheese (montrachet) at room temperature
2 tablespoons chopped fresh chives
1 cup extra virgin olive oil
25 large fresh basil leaves
1/2 cup coarsely chopped, loosely packed basil leaves
1 1/2 cups seeded and chopped yellow tomato
Cut the eggplants lengthwise into 1/2-inch-thick slices. Sprinkle slices on both sides with salt and let drain in a colander to release excess moisture. Rinse the eggplant slices and pat dry with paper towels.
In a bowl, stir together mozzarella, goat cheese, 1-tablespoon chives, and salt and pepper to taste. Brush both sides of eggplant slices lightly with oil. Lightly coat a clean grill with cooking spray and heat to medium (or preheat broiler to high). Grill or broil eggplant 3 to 4 minutes, or until golden and seared. Season with salt and pepper, turn over, brush with more oil, and grill or broil 3 to 4 minutes more, or until eggplant just begins to soften. Remove and let sit 10 minutes.
Transfer eggplant to a baking sheet. Arrange basil leaves in slightly overlapping pattern across each slice of eggplant. Place a heaping tablespoon of cheese mixture at the narrow end of each slice, roll up cigar fashion, and secure each with a toothpick. Repeat with remaining eggplant. Arrange rolls, seam sides down, in a lightly oiled 9-by-13-by-2 inch glass baking dish and broil 4 to 6 inches below high heat, 3 to 5 minutes, or until cheese is just melted and bubbling.
Puree 1/2 cup chopped basil, remaining tablespoon chives, and 1-cup oil in a blender until smooth. Season with salt to taste to taste. Transfer cooked eggplant to serving plates and scatter tomatoes around rolls and drizzle with basil oil.
Gingered Red Cabbage
4 cups red cabbage, shredded
1 TBS lemon juice
5 TBS chicken or vegetable broth
Mediterranean Dressing
3 TBS extra virgin olive oil
1 TBS lemon juice
1 medium clove garlic, chopped or pressed
Sea salt, and pepper to taste
2 TBS grated ginger
1 TBS sesame seeds
5 drops tamari soy sauce
1 TBS chopped cilantro
Few drops of rice vinegar/rice wine
Quarter cabbage, slice into 1/4-inch strips, and let sit for 5 minutes to bring out the health benefits. Chop or press garlic and let sit for at least 5 minutes. Sprinkle cabbage with 1 TBS lemon juice before cooking to prevent it from turning blue. Heat 5 TBS broth over medium heat in a stainless steel skillet. When broth begins to steam, add cabbage and cover. Saute for no more than 5 minutes. Transfer to a bowl. Toss cabbage with the dressing ingredients while it is still hot.
Squash Puppies
1 cup grated squash
1/2 cup chopped onion
1 cup self-rising cornmeal
1/4 cup self-rising flour
1 egg, beaten
Milk
Vegetable oil for deep-frying
Combine the squash, onion, cornmeal, flour and egg in a large bowl. Stir in enough milk to make a stiff batter. Drop by teaspoonfuls into hot oil. Cook until golden brown. Yield: 4 to 6 servings.
Swiss chard is a nutrient dense green leafy vegetable that is rich in omega-3 fatty acids, vitamins A, C, & K, iron, calcium, and magnesium. It is important for bone health to help prevent breakage, fractures, and osteoporosis.
Swiss chard helps regulate blood sugar levels in the body making it great for those with diabetes or blood sugar issues. It is particularly beneficial for anemia, cardiovascular disease, Alzheimer's disease, constipation, and breast, prostate, ovarian, bone, liver, stomach, pancreatic, and colon cancers.                                Swiss chard has powerful anti-inflammatory properties making it an ideal food for those who suffer with autoimmune disorders such as cardiomyopathy, fibromyalgia, lupus, chronic fatigue syndrome, arthritis, lyme disease, and type 2 diabetes. It contains a large number of phytonutrient antioxidants such as betalains shown to help protect the body from chronic illnesses such as heart disease, multiple sclerosis, and COPD.
The nutritional benefits of Swiss chard are most readily available when eaten raw or juiced. Swiss chard is wonderful in salads, smoothies, sandwiches, wraps, and nori rolls and freshly made juices. It is a relatively easy vegetable to grow.
Vegetarian Foods That Have More Iron Than Meat
Spinach – Three cups of spinach contain about 18 mg of iron. Meet your daily RDA of iron with one hearty spinach salad.
Broccoli is jam-packed with iron and key nutrients like vitamin K and magnesium and is high in vitamin C, which helps encourage iron absorption in the body.
Lentils one cup of lentils has more iron than an 8-ounce steak and are a solid source for dietary fiber, potassium, and protein.
Kale- Three cups of kale contain 3.6 mg of iron.
Bok Choy will feed you a healthy dose of vitamin A and 1.8 mg of iron per cup.
Baked Potato – One large baked potato contains nearly three times the amount of iron as a 3-ounce serving of chicken.
Sesame Seeds – One tablespoon of sesame seeds contains 1.3 mg of iron.
Cashews have the added benefit of being very rich in iron. A ¼-cup serving contains about 2 grams of iron.
Soybeans – A single cup of cooked soybeans contains between 8 and 9 mg of iron. They're also one of the 20 highest protein vegetarian foods.
Chickpeas – One cup of chickpeas contains 4.7 mg of iron.
Dark Chocolate promotes healthier skin and teeth, reduces anxiety, and contains 2 to 3 mg of iron.
Swiss Chard – One cup of Swiss chard has 4 mg of iron and valuable nutrients, including omega-3 fatty acids, vitamins A, C, and K, and B folates.
Tofu boasts 3 mg of iron per half cup.
Kidney beans contain 3-4 mg of iron per cup.