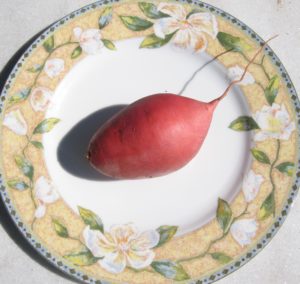 Sweet Potato Chocolate Pudding:
1 large sweet potato (cooked/skin removed)                                                                                                      4 medjool dates, pitted                                                                                                                                        1-2 TBS almond butter (any nut butter or coconut oil)                                                                                        2-4 TBS cocoa powder                                                                                                                                        1/4-1/2 tsp cinnamon                                                                                                                                           ½ cup milk (almond, coconut)                                                                                                                             Maple Syrup to taste
Place ingredients in a blender adding enough milk to get the desired consistency. You may need to adjust measurements depending on size of potato.
Spicy Sweet Potato Fries
2 medium sweet potatoes, peeled and cut into ½ thick slices
1 tablespoon extra-virgin olive oil or coconut oil
½ teaspoon chili powder
½ teaspoon cumin
½ teaspoon black pepper
Salt to taste
¼ teaspoon cayenne pepper
Preheat Oven 450 Degrees. Take half of the sweet potato and cut it into large slices about 3/4 inch thick and then cut the larger slices into fries. Place potato slices in a bowl and coat lightly with oil. Mix in the chili powder, cumin, black pepper, salt and cayenne pepper. Space the fries on a baking sheet. Make sure they're not touching. They'll get soggy otherwise! Put them in the oven for 15 minutes. Take them out and flip them and put them back in the oven for 10 minutes.
The Center for Science in the Public Interest (CSPI) ranks the sweet potato as one of the best foods to eat.
It would take 23 cups of broccoli to provide the same amount of vitamin A as one medium sweet potato!
Sweet potatoes are more nutritious when cooked with the skin.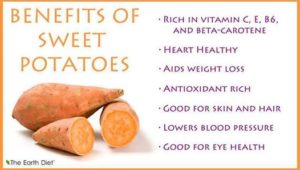 1 cup baked Sweet Potato Nutrient %Daily Value
vitamin A 438.1%
vitamin C 37.2%
manganese 28.4%
vitamin B6 16.5%
tryptophan 15.6%
potassium 15.4%
fiber 15%
vitamin B5 10.1%
copper 9%
vitamin B3 8.5%
Calories (102) 5%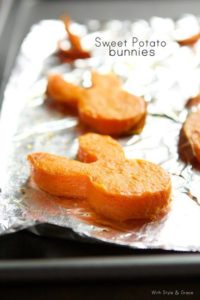 Sweet Potato Gratin
1 cup double cream (or heavy whipping cream)
1 clove garlic, finely sliced
1 small red chili, finely sliced, optional
2lb sweet potato, scrubbed
5oz crunchy peanut butter
Preheat your oven to 350F. Mix cream, garlic and chili in a large bowl. Season. Finely slice sweet potato into rounds. Toss sweet potato slices in the cream mixture. Layer half the sweet potato in an ovenproof dish. Scatter over the peanut butter and finish with the remaining sweet potato. Cover with foil and bake for 30 minutes. Remove the foil and bake for another 20-30 minutes until the sweet potato is tender and browned on top. You can replace cream with coconut milk and replace the peanut butter with a few handfuls of chopped bacon or pancetta. You might also combine the peanut butter with a few tablespoons Thai red curry paste if you like and serve with lime wedges.
Sweet Potato Fries
Preheat oven to 425 degrees.
Sweet Potato, Olive Oil, Salt & Pepper, 1 cup plain yogurt, juice of one half lemon, 1 Tablespoon curry, 1 Tablespoon honey
Peel sweet potatoes and cut into eighths lengthwise. Toss with olive oil until lightly coated and salt and pepper to taste. Evenly distribute sweet potatoes on rimmed baking sheet. Bake for 30-35 minutes or until lightly browned.
Dipping Sauce:
Combine yogurt, lemon juice, curry, and honey in small bowl. Mix until evenly combined. Add salt and pepper to taste.
Sweet Potato and Banana Bread
2 cups whole wheat flour (pastry flour preferred)
1 teaspoon salt
1 teaspoon baking powder (preferably aluminum-free, available at health food stores)
2 teaspoons baking soda
1/2 teaspoon nutmeg
1/2 teaspoon cinnamon
1/4 teaspoon ground cloves
1/4 teaspoon ginger
1/2 cup honey
1 large cooked sweet potato, mashed
2 eggs, beaten
1/2 cup oil
2 very ripe bananas, mashed
1/2 cup chopped nuts
1/2 cup raisins, plumped in 1/2 cup orange juice
Combine all dry ingredients in a large bowl. Mix together remaining ingredients and stir into dry mixture, stirring just enough to avoid lumps. Pour into an oiled and floured 9- by 9-inch pan. Bake for 45 minutes at 350 degrees F, or until a toothpick inserted in the center comes out clean.
Sweet Potato Graten with Pecan Crumb Topping
3 lb sweet potatoes
2 tbsp unsalted butter, melted
1 1/2 tsp finely grated orange zest
2 tbsp fresh lemon juice
2 tbsp fresh orange juice
1 tbsp minced garlic
1/2 tsp ground allspice
Sea salt, to taste
1/2 cup fresh whole-wheat bread crumbs
1/3 cup pecan halves, coarsely chopped
1/4 cup chopped scallion greens
2 tbsp finely grated Parmesan
Heat the oven to 400˚F with the rack in center position. Prick the potatoes several times with a fork and wrap each in foil. Roast the potatoes until very tender, about 45 minutes. Remove the foil and halve the potatoes. Scoop the flesh into a bowl. Mash the potatoes with the butter, zest, juices, garlic, allspice, and sea salt to taste. Toss together the bread crumbs, pecans, scallions, and Parmesan in a bowl. Reduce the heat to 375˚F and grease a 1-quart shallow glass pie plate or ceramic baking dish. Spoon the potatoes into the dish and top with the crumb mixture. Bake until the crumbs are golden and the potato mixture is hot, about 30 minutes.
Grandma's Sweet Potato Pancake
1/2 banana
½ cup sweet potato or organic canned pumpkin
½ cup coconut flour
2 eggs beaten
1 can coconut milk
1 Tbsp maple syrup (optional)
2 Tbsp coconut oil melted
2 tsp vanilla
1/8 tsp sea salt
1 tsp cinnamon
¼ tsp allspice
1 tsp baking powder
Put all liquid ingredients together in one bowl. Mix up the dry ingredients in a different bowl. Slowly add the liquids to the solids and stir until mixed together well. Pour into an 8×8 glass or corning wear dish. Bake in oven on 325 about 25 minutes until it sets. Serve warm or cold as a dessert, breakfast or side item.
Sweet Potato Patties
with Spinach and Cranberries
3 cups cooked sweet potato
1 cup cooked quinoa
1 cup cooked brown rice
1 cup chopped spinach
1/2 cup chopped green onions
1/3 cup dried cranberries
2 tsp dried sage
1/2 tsp salt
Preheat oven to 400 degrees F. Mash sweet potatoes with a fork. Finely chop the cranberries. With a spoon, combine the cooked quinoa, brown rice, spinach, green onions, cranberries, sage, and salt, with the sweet potatoes. Prepare a large cookie sheet with parchment paper or a silicone sheet. Using an ice cream scoop with a lever, place a large scoop of the sweet potato dough onto the prepared cookie sheet. Gently push the dough out into a "patty" shape. Bake for 45-60 minutes. For crispy patties, use convection, and a drizzle of olive oil. Be wary when flipping patties or removing from the cookie sheet too soon. Alternatively, bake for an hour, and then pan fry with a little olive oil.
Sweet Potato Pie
1 cup mashed cooked sweet potatoes
1 cup sugar
2 eggs, beaten
1/3 cup butter, melted
1/3 cup milk (whole or skim)
1 teaspoon nutmeg
1/2 teaspoon baking powder
Pinch of salt
1 unbaked (10-inch) deep-dish pie shell
Combine the sweet potatoes, sugar, eggs, butter, milk, nutmeg, baking powder and salt in a large mixing bowl. Beat until well combined. Pour into the pie shell. Bake at 400 degrees for 30 minutes until the filling is set. Serve hot or cold with whipped cream.
Ginger Sweet Potato Cheese Cake
12 ounces sweet potatoes, peeled and cut into 1″ pieces
1 cup dried apricots, chopped
15 gingersnap cookies
3/4 cup fiber one cereal
2 tablespoons unsalted butter, melted
8 ounces fat-free cream cheese, softened
8 ounces Neufchatel cheese, softened
1 cup plain nonfat yogurt
3 egg whites
2/3 cup packed brown sugar
3 tablespoons finely chopped crystallized ginger
1 tablespoon whole wheat flour
2 teaspoons pumpkin pie spice
2 teaspoons vanilla extract
1/4 teaspoon salt
Preheat the oven to 350°F. Coat a 9″ springform pan with cooking spray. Combine the potatoes in a large saucepan over high heat with enough cold water to cover by 2″. Bring to a boil; cook until the potatoes are tender, 12 to 15 minutes. Drain and mash; cool. Bring 1 cup water to a boil in a small saucepan over high heat. Remove from the heat, add the apricots and let stand for 10 minutes; drain. In the bowl of a food processor, combine the cookies and cereal and process until finely ground. Transfer to a bowl and add the butter; mix well. Firmly press the mixture into the bottom and 1″ up the sides of the prepared pan. Bake for 10 minutes; cool on a wire rack. Reduce the oven temperature to 325°F.
In the bowl of an electric mixer, place the mashed sweet potatoes, cream cheese, and Neufchatel cheese and beat on high speed until smooth, about 1 to 2 minutes. Add the yogurt, egg whites, sugar, ginger, flour, pumpkin pie spice, vanilla extract, and salt and beat well. Sprinkle the apricots over the bottom of the prepared crust. Pour the potato mixture over the apricots. Bake until the cheesecake is almost set, about 42 to 45 minutes. Turn the oven off and let stand for 1 hour. Remove from the oven and allow cooling to room temperature. Cover with plastic wrap and chill for at least 3 hours before serving.
Spicy Sweet Potato Fries
2 large sweet potatoes, peeled
2 tsp olive oil
1 tsp cayenne pepper
2 tsp paprika
1/2 tsp salt
Preheat oven to 400°F. Slice the potatoes in half lengthwise and then cut each half into four wedges. Toss the wedges with the oil, cayenne pepper, paprika, and salt, and lay the pieces on a baking sheet. Bake for 35 to 45 minutes, until they're browned on the outside and tender all the way through.
Apple and Sweet Potato Hash Browns
2 tbsp canola oil
1 large granny smith apple, peeled and sliced into thin matchsticks
1/2 C thinly sliced onion
3 medium sweet potatoes, cut into thin matchsticks (about 2 cups)
cinnamon
In a large skillet, heat 1 teaspoon oil over medium-high heat. Add apple and onion and cook until soft. Set aside in a covered bowl. Add 1 tablespoon oil to skillet. Spread potatoes in pan in an even layer and press them down lightly with a spatula. Cook until golden brown on the bottom (about 5 minutes). Drizzle with remaining oil and flip potatoes. Cook for about 5 more minutes. Add apple and onion mixture to potatoes and heat through. Sprinkle with cinnamon and add salt and pepper to taste.
Chili Spiced Mashed Sweet Potatoes
4 large sweet potatoes (3 1/2 lbs total)
1/2 cup fresh orange juice
2 tsp orange zest
2 tbsp brown sugar
2 tsp ground cinnamon
1 tsp chili powder
Bake the sweet potatoes in a 425°F oven until soft, about 70 minutes. Remove sweet potatoes from oven and allow them to cool slightly. In a small bowl, whisk together orange juice, orange zest, brown sugar, 1/4 teaspoon salt, cinnamon, and chili powder. Scoop out the insides of sweet potatoes and place in a large mixing bowl. Pour orange juice mixture over sweet potatoes, mash well, and serve.
Rosemary Sweet potato Wedges
2 tablespoons unsalted butter
2 tablespoons olive oil
1 tablespoon chopped fresh rosemary (or 2 teaspoons dried)
3 medium sweet potatoes, scrubbed clean
1 teaspoon salt
1/4 teaspoon freshly ground black pepper
Preheat the oven to 450°F. Melt the butter with the olive oil in a small saucepan over medium heat. Stir in the rosemary. Cut the sweet potatoes lengthwise into 1 1/2-inch-thick wedges and place in a large bowl. Season with salt and pepper, and drizzle with the butter mixture. Toss gently. Arrange the wedges on a large baking sheet in one flat layer so they don't touch. Bake in the upper part of the oven, turning once, until softened and lightly browned, about 20 minutes. Season again with salt and pepper, and carefully remove from the sheet (wedges are relatively fragile after cooking).
Gingered Sweet Potato and Carrot Soup
1 tbsp olive oil
1 medium onion, chopped
1 C low-sodium chicken or vegetable stock
1 medium sweet potato, peeled and diced
5 large carrots, peeled and sliced
1 tbsp jarred ginger, chopped
Plain nonfat Greek-style yogurt (optional)
Heat oil in large saucepan. Add onion and cook until soft. Add stock plus 2 cups water. Add sweet potato, carrot, and ginger. Bring to a boil, reduce heat, and simmer until vegetables are tender, about 15 minutes. Strain out vegetables and put them in a food processor or blender. Puree until smooth, adding a bit of broth if needed. (If using a blender, allow mixture to cool first. Depending on the size of your blender, you may have to do this in batches. Pour vegetable puree back into the saucepan and stir until well blended and smooth. Add salt and pepper to taste. Serve with a dollop of yogurt on top.
Sweet Potato Soup:
3 cups mashed sweet potatoes
1 1/2 to 2 cups low-sodium chicken broth
1/2 teaspoon ground ginger
1/2 teaspoon allspice
1/2 teaspoon freshly grated nutmeg
1/2 cup creme fraiche
2 teaspoons chipotle in adobo puree
Salt and freshly ground black pepper
Fresh cilantro leaves, for garnish
Blue Corn tortilla chips, coarsely crushed, for garnish
Whisk together the mashed potatoes, 1 1/2 cups of the broth, ginger, allspice, and nutmeg in a medium saucepan and bring to a simmer over high heat. Reduce the heat to low and cook, stirring occasionally, for 10 minutes. Whisk in the 1/4 cup creme fraiche and more broth, if needed, and cook for 5 minutes. Whisk together the remaining 1/4 cup of creme fraiche and chipotle puree in a small bowl, and season with salt and pepper. Ladle the soup into bowls and top with a dollop of the creme fraiche, cilantro leaves and tortilla chips.
Sweet Potato Soufflé
3 lbs. mashed sweet potatoes
1/2 cup butter (1 stick), softened
1 cup evaporated milk
3 eggs
1 cup brown sugar
1 tablespoon pumpkin pie spice
1 tablespoon baking powder
1 cup chopped pecans
1 pinch salt
2 cups marshmallow topping
Preheat oven to 350 degrees F. Lightly spray 12 (6-ounce) ramekins with cooking spray. Divide the ramekins among 2 baking sheets and set aside. Empty sweet potatoes into a large mixing bowl, add butter and beat with a hand mixer until smooth. Mix the remaining ingredients (except marshmallow topping) and beat until smooth. Pour into prepared ramekins and bake in preheated oven for 30 minutes. Remove from the oven and top each soufflé with a dollop of marshmallow topping. Place under the broiler until lightly browned.
Sweet Potato Biscuits
1 1/4 cups all-purpose flour
2 heaping tablespoons sugar
4 teaspoons baking powder
1/2 teaspoon salt
3/4 cup mashed cooked sweet potatoes
1/4 cup (1/2 stick) softened butter
2 to 4 tablespoons milk (depending on the moisture of the potatoes)
Preheat the oven to 450 degrees F.
Sift together flour, sugar, baking powder and salt. In a separate, large bowl, mix the sweet potatoes and butter. Add the flour mixture to the potato mixture and mix to make a soft dough. Then add milk a tablespoon at a time to mixture and continue to cut in. Turn the dough out onto a floured board and toss lightly until the outside of the dough looks smooth. Roll the dough out to 1/2-inch thick and cut with a biscuit cutter. Place the biscuits on a greased pan and coat tops with melted butter. Bake for about 15 minutes. (If the biscuits are browning too fast, lower the temperature.)
Sweet Potato Turnovers
2 pounds sweet potatoes, whole and unpeeled
¼ cup granulated sugar
¼ cup brown sugar
1 lemon, zested
2/3 cup whole blanched almonds, ground in food processor
1 teaspoon ground cinnamon
½ teaspoon anise extract
1 tablespoon honey
4 sheets frozen puff pastry, thawed
1 egg, beaten
Powdered sugar, for dusting
Preheat the oven to 400 degrees F.
Put potatoes in a medium pot and cover with water. Bring water to a boil over medium heat and cook until tender. Drain the potatoes and let to cool. When the potatoes are cool enough to handle, peel off the skin. Cut the potatoes into large chunks and add to a mixing bowl. Mash with a potato masher or fork. Add the sugars and mix thoroughly. Stir in the lemon zest, ground almonds, cinnamon, anise extract and honey. Roll out 1 of the pastry sheets on a floured cutting board. Using a 3 to 3 1/2-inch biscuit cutter, cut out as many circles of the dough as possible. Put a dollop of sweet potato filling on each circle and fold the circles in half to form a half moon. Press the edges together with a fork to seal and arrange on sheet tray lined with parchment. Brush the top of each turnover with beaten egg. Bake until golden brown, approximately 15 minutes. Remove and cool for 5 minutes. Arrange on a serving platter, dust with powdered sugar and serve.
Sweet Potato Pie
4 medium sweet potatoes
1/2 stick butter, softened
1/4 cup sugar
3/4 cup brown sugar
2 eggs, beaten
1 teaspoon pure vanilla extract
1/2 teaspoon ground cinnamon
1/8 teaspoon ground ginger
1/8 teaspoon ground nutmeg
1/8 teaspoon ground allspice
1/2 teaspoon salt
3/4 cup evaporated milk
1 unbaked pie crust
Preheat oven to 350 degree F. Bake sweet potatoes for 1 hour in the oven on a baking sheet. When done, let cool. Scrape the pulp out of the skin, transfer to a large bowl, and mash. Set aside.
In a medium bowl, beat together butter, sugar, and brown sugar until creamy. Add eggs, vanilla, cinnamon, ginger, nutmeg, allspice and salt. Add evaporated milk and stir mixture into sweet potatoes. Beat together with mixer until smooth and pour into an unbaked pie shell. Bake on bottom rack of oven for 1 hour or until center of pie is firm. Serve warm. Add dollop of maple whipped topping.
Maple Whipped Topping:
1 cup heavy whipping cream
1/4 confectioners' sugar
2 tablespoons maple syrup
In a medium bowl, beat together whipping cream and confectioners' sugar. Add maple syrup. Beat together until soft peaks form.
Yams with Ginger and Cinnamon
6 cups yams peeled and cut into 1-inch pieces
1/2 medium onion, cut in half and sliced thin
4 medium cloves garlic, chopped
1-1/2 TBS finely minced fresh ginger
1/2 tsp cinnamon
1/2 TBS honey
1 TBS + 1 cup chicken or vegetable broth
Salt and white pepper to taste
Slice onions and chop garlic and let sit for 5 minutes to enhance their health-promoting properties. Cut yams into 1″ cubes. Heat 1 TBS broth in a 12-inch or larger stainless steel skillet. Sauté onions over medium heat stirring frequently. Add garlic and ginger and continue to sauté. Add yams, cinnamon, honey, and 1 cup of broth. Mix and simmer over low heat covered for about 15 minutes, or until yams are tender. Season with salt and pepper.