Coco de Mer
The World's Largest Seed
The secret behind the world's largest seed is leaves that channel rainwater and nutrients right to the plant's thirsty roots. The Coco-de-Mer palm produces monster nuts. The biggest weighs 40 pounds. These plants grow wild on nutrient-starved, rocky soil on just two islands in the Seychelles (part of an arc of 115 islands in the Indian Ocean, off East Coast of Africa.)
Coco-de-Mer palms scavenge a lot of the nutrients shed in their own dying leaves. These trees can reuse 90 percent of that prized phosphorus from the fronds it's about to drop. That's a record for the plant world. The plants are frugal. They sprout fronds using about one-third the nutrients needed by leaves of 56 neighboring species of trees and shrubs. Creating its monster seeds uses up about 85 percent of this plant's supplies of phosphorus and the palms manage this thanks to drainage. The palm's curving leaves can span 2 meters or 6.6 feet. The leaves resemble folded paper fans and any rains falling on them funnel down the stems. The water washes animal droppings, stray pollen etc. – a nutrient windfall — off of the palm and onto its hungry roots.
Each giant seed takes about six years to grow once the palm reaches plant maturity that may take 80 to 100 years. Then the palms can yield its first seed. Throughout the palm's life of several hundred years, it may bear only about 100 seeds.
Few of those monster coconuts will get a chance to replenish the dwindling Coco-de-Mer forests, however. It is calculated that 20 to 30 percent of the endangered species' seeds must sprout to keep the forests growing and healthy. That has not been happening. Nut poachers have been illegally kidnapping the seeds and grinding them into a powder they sell.
I HAVE ALWAYS BEEN IN AWE OF THE INCREDIBLE DESIGN AND PATTERNS IN NATURE . . . FROM SEEDS TO POLLEN GRAINS. HERE ARE A FEW PICTURES OF SOME INTERESTING SEEDS SHOWING THEIR DIVERSE COLORING AND SHAPES.
Cocao
Brazil Nut
Devil's Claw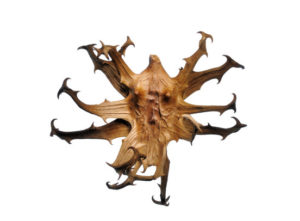 Texas Mountain Laurel
     Argentina Screw Bean
Earleaf Acacia             
                 Sacred Lotus
Sea Mango         
                        Australian Pine
African mahogany
zeyheri
Java cotton                 
tipu                     
                        woody Pear                        
Kiaat
Travelers Palm
Sunflower
West Indian Mahogany