Spinach Salad with Rosemary Honey Mustard Dressing
Toss into a large bowl:
4 C. young fresh spinach
1/4 C. roasted ham (cooled), chopped into little pieces
1/4 C. blue cheese, crumbled
1 hand full dried blueberries
1 hand full raw sunflower seeds
1 hand full soy ginger Wonton Strips (or toasted croutons)
To make the Rosemary Honey Mustard Dressing:
1/4 C. Olive Oil
2 Tbsp white wine vinegar
2 Tbsp honey
2 Tbsp mustard
1 spring fresh rosemary
Salt and pepper, to taste
In a glass jar, mix together all dressing ingredients. Shake well and let sit. Drizzle dressing over salad and mix thoroughly. Serve and enjoy.
Slaw Dressing
1/2 cup honey
1 cup sour cream
pineapple chunks
Blue cheese
Spicy Cole Slaw
1 medium cabbage
2 carrots grated
½ cup mayonnaise
2 tablespoons pickle relish
1 tablespoon Dijon mustard
1 tablespoon cider vinegar
2 teaspoons pepper sauce
Kosher salt
Freshly ground black pepper
Cut cabbage in half and remove core. Cut each half in half and slice each resulting quarter into thin ribbons. Mix with carrots in a large bowl. In a separate bowl, whisk together remaining ingredients. Pour the dressing over the cabbage and toss. Season to taste. The coleslaw may be covered and refrigerated a few hours. Toss before serving.
Garlic Herb Vinaigrette
1/3 cup plus 2 tablespoons extra-virgin olive oil
1/4 cup apple cider vinegar
1 tablespoon Dijon mustard
2 medium cloves garlic minced
3 tablespoons fresh herbs (any combination of diced chives, oregano or thyme)
¼ teaspoon Himalayan salt
Freshly ground black pepper, to taste
In a screw-top jar, combine the olive oil, apple cider vinegar, mustard, garlic, herbs and salt. Cover and shake vigorously to combine. Taste and add a few grinds of black pepper and additional salt if desired. Serve immediately or store in the refrigerator for up to 3 days. Shake well before using.
Homemade Ranch Dressing
1 cup mayonnaise
1 cup plain homemade kefir (or cultured buttermilk)
1 tbsp. minced chives
1 tsp. dried chopped onions
1 tsp. dried dill weed
1 tsp. dried parsley
½ tsp. onion powder
½ tsp. garlic powder
¼ – ½ tsp. sea salt
¼-1/2 tsp. fresh ground black pepper
Mix all of the ingredients together by hand or in a food processor. This will keep in the fridge for about a week — if it lasts that long!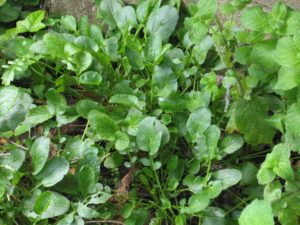 Watercress is a popular European leafy green herb that grows along springs and slow running water. It has a faint pepper taste and is related to mustard greens, garden cress, cabbage and arugula. It contains more vitamin C than some fruit and vegetables! You can get over 72% of your daily vitamin C from 100 grams of watercress. Vitamin C helps to scavenge free radicals, helps boost your immunity against infection, helps prevent iron deficiency anemia, helps maintain bone health, and keeps skin supple and radiant looking.
It is one of the best vegetable sources for vitamin K! Just 100 grams of watercress has 200% of your daily-recommended amount of vitamin K! Vitamin K promotes the strengthening and formation of bones, reduces the amount of neuronal damage in the brain and has been used to treat patients with Alzheimer's disease.
Vitamin A, important for skin, eye, bone, hair and nail health, is a fat-soluble vitamin stored in our liver. It acts as an antioxidant in our bodies, but it is the carotenes in the watercress that can be turned into vitamin A or turned into antioxidants. It is intelligent and will turn carotenes from the plant into vitamin A only if your body needs it. The rest will function in your bloodstream as antioxidants. Watercress is particularly rich in vitamin A with 100g of the leaves providing you with 70% of your RDA of vitamin A.
Watercress is rich in B vitamins that help relieve stress, treat anxiety and depression, aid in memory, and relieve PMS. Some B vitamins help cells burn fats and glucose for energy, whereas others help make serotonin. B vitamins assist with the production and repair of DNA!
Glucosinolates in watercress help boost and regulate detoxification enzymes in the liver. The glucosinolates in watercress are converted to isothiocyanates, which then have the ability to inhibit tumorigenesis by modulating the metabolism of carcinogens. This effect found to have a stronger impact when consuming watercress that has not been cooked.
As an anti-inflammatory, watercress has been used for treating eczema, acne and other skin issues (again, we can thank vitamin's A and C here). It can be used as a liver tonic to help aid your liver in the detoxification process. Watercress is 85% protein, making it a great source of plant protein for vegans.
Watermelon Salad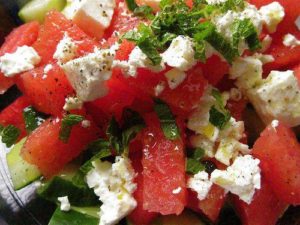 1/4 watermelon, diced into bite-sized chunks
1/2 cucumber, diced into bite-sized chunks
2 ounces feta, crumbled
1 lime
1 Tbsp. extra virgin olive oil
4-5 fresh mint leaves, chiffonnade
freshly ground black pepper
Toss the watermelon and cucumber together in a large bowl. Sprinkle the cheese on top and season with olive oil, lime juice and black pepper. Sprinkle the chiffonnade of mint leaves over the top of the salad as a garnish.
Fig Salad
2 bunches Fresh Spinach
8 whole Strawberries
12 whole Figs
4 ounces, weight Goat Cheese
¼ cups Olive Oil
⅛ cups Balsamic Vinegar
2 Tablespoons Raw Honey
⅛ cups Lemon Juice
¼ teaspoons Salt
1 Tablespoon Basil
1 Tablespoon Parsley
Wash spinach, strawberries, and figs. Cut figs and strawberries and remove stems and/or leaves. Toss spinach, strawberries, goat cheese, and figs. Combine olive oil and vinegar, and whisk in honey, then add lemon and salt. Whisk until honey is well combined (or almost seems to dissolve). Add basil and parsley and whisk again. Let it sit a minute, taste, and adjust seasonings. Depending on the quality of the oil, strength of the vinegar, and your family's taste, you may choose to adjust the portions (it's common for vinaigrettes to have an oil to vinegar ration of 2 to 1).
Drizzle dressing over salad and serve.
Salad Sandwich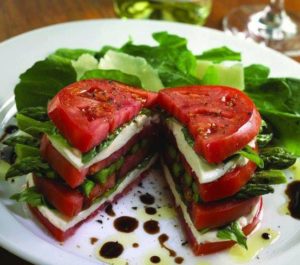 Invigorating Homemade Salad Dressing
2 cloves of garlic: The allicin in garlic is a powerful antibiotic which even shows promise in use against serious infections such as tuberculosis and MRSA. Garlic also detoxifies the body, and helps to lower the risk of heart disease. Garlic was used by ancient Roman and Egyptian workers for improved physical stamina.
1 thumbnail sized slice of fresh ginger: Ginger is a potent pain killer and has anti inflammatory effects. Studies have shown that ginger can slow the growth of some cancer cells and even cause cell death in ovarian cancer cells. Ginger can also be taken for motion sickness and heartburn.
1 lemon's worth of juice: The citric acid in lemon juice can help to dissolve calcium deposits, kidney stones, and gallstones. Lemons contain vitamin C, the detox vitamin, which sweeps away free radicals that can cause damage to tissue in the body. The hesperetin found in lemons can help with allergy symptoms.
1/4 cup olive oil: Monounsaturated fats contained in olive oil help the body to manage cholesterol. Extra virgin olive oil triggers apoptosis, or programmed cell death, in cancer cells. A chemical compound present in olive oil possesses anti inflammatory properties.
Crisp Cucumber Salsa:
2 cups finely chopped seeded peeled cucumber
1/2 cup finely chopped seeded tomato
1/4 cup chopped red onion
2 Tbsp minced fresh parsley
1 jalepeno pepper, seeded and chopped
4-1/2 tsp minced fresh cilantro
1 garlic clove, minced or pressed
1/4 c reduced-fat sour cream
1-1/2 tsp lemon juice
1-1/2 tsp lime juice
1/4 tsp ground cumin
1/4 tsp seasoned salt
Tortilla chips
In a small bowl, combine the first seven ingredients. In another bowl, combine the sour cream, lemon juice, lime juice, cumin and seasoned salt. Pour over cucumber mixture and toss gently to coat.
Marinated Tomatoes And Cucumbers
1 – Mason Jar (1 L)
1 – Ripe Tomato
1 – Cucumber
1 – Onion
1 TBSP – Dill
1/2 Cup – Vinegar
1 Tsp – Himalayan Salt
1/2 Tsp – Raw Honey
2 TBSP – Cold-press, extra virgin Olive Oil
Dice tomato and place half in jar. Dice onion an and place 1/2 on top of tomato
Dice cucumber and place on top of onions. Whisk or shake together all other ingredients in bowl or small mason jar for marinade. Layer rest of ingredients starting with the tomatoes. Pour the marinade over the veggies. Close lid and give a good flip to evenly spread the marinade. Place in fridge for 2+ hours before serving.
Green Salad with Spicy Ginger Vinaigrette
Toss into a large bowl:
2 C. sliced green lettuce
1/2 C. sugar snap peas
1/4 C. toasted flax seed croutons
1 hand full dried cranberries
1 hand full sliced, toasted almonds
Ingredients for vinaigrette:
2 Tbsp fresh ginger, diced
1 clove garlic, minced
2 Tbsp olive oil
2 Tbsp grape seed oil
1 Tbsp cider vinegar
1 Tbsp honey
A dash of ground mustard seed
Salt and pepper, to taste
To make the spicy ginger vinaigrette:
In a small skillet, mix together ginger, garlic and olive oil. On medium heat, fry ginger and garlic until lightly brown. Remove from heat and let cool. In a glass jar, mix together all ingredients, and shake until thoroughly mixed. Drizzle vinaigrette over salad, toss and serve.
Super Carrot Raisin Salad
2-3 medium carrots (2 cups peeled and shredded)
½ cup raisins
½ cup chopped fresh or canned pineapple
1 TBS chopped cilantro
Dressing:
2 TBS canned coconut milk
1/4 tsp turmeric
1/2 TBS honey
1 tsp orange zest
1 TBS fresh lemon juice
1 TBS extra virgin olive oil
salt and white pepper to taste
Blend all dressing ingredients together in blender adding olive oil a little at a time at end. Shred carrots in food processor or use a hand grater. Depending on how big they are, it will take about 2 or 3 carrots.
Mix carrots with raisins and pineapple, and toss with desired amount of dressing. Stir in chopped cilantro.
Figs Walnuts and Spinach Salad
1/2 medium onion, sliced thin
2 Tbs white wine or apple cider vinegar
1 cup hot water
5 oz baby spinach
2 Tbs balsamic vinegar
1/2 tsp honey
2 Tbs extra virgin olive oil
salt and cracked black pepper to taste
8 dried figs, sliced
2 Tbs chopped walnuts
Slice onion and let sit for at least 5 minutes to enhance its health-promoting properties. Marinate sliced onion in 2 TBS white wine or apple cider vinegar and hot water for 10 minutes while preparing rest of ingredients. Rinse and dry baby spinach. If you have a salad spinner that is best, otherwise, dry with paper towels. This will avoid dressing getting diluted. Whisk together balsamic vinegar, honey, salt and pepper, drizzling in the olive oil a little at a time at the end. Drain the liquid in which the onions were marinating. Toss spinach, onions, walnuts, and figs with dressing and serve.
Apple Grape Salad
2 apples, cubed
1 cup halved grapes
½ cup chopped celery
¼ cup chopped walnuts
1/3 cup plain yogurt
1/3 cup sour cream
1 teaspoon lemon juice
In a large bowl, combine apples, grapes, celery, and walnuts. In a small bowl, whisk together yogurt, sour cream, and lemon juice. Mix lightly into fruit. Chill and serve.
Fruit with Lemon and Mint Sauce
1 small honeydew melon – cleaned of seeds, peeled then sliced into bite-sized pieces
1 small cantaloupe melon – cleaned of seeds, peeled then sliced into bite-sized pieces
2 cups of strawberries – washed, caps removed then sliced.
Place sliced fruit in large glass/plastic bowl. Prepare Lemon and Mint Sauce.
Lemon and Mint Sauce
2 tablespoons of chopped fresh peppermint
2 tablespoons of lemon juice
1/4 cup of orange juice
1 tablespoon honey
Mix all the ingredients of the sauce in a small bowl and whisk until combined well. Pour the sauce over the fruit and toss lightly until all is covered. Serve.
My Favorite Broccoli Salad
1/2 cup mayonnaise or salad dressing
1 tablespoon sugar
2 tablespoons cider vinegar
3 cups broccoli flowerets (1/2 lb)
1/3 cup golden raisins
1/4 cup shredded Cheddar cheese (1 oz)
4 slices bacon, crisply cooked and crumbled
3 tablespoons chopped red onion
1/2 cup grated carrots
Mix the mayo,vinegar and sugar, pour over salad mixture and toss.
Healthy Broccoli Salad
2 cups broccoli florets cut into bite sized pieces
1/4 cup diced red onion
1/4 cup raisins
1/4 cup walnuts
Dressing
1/4 cup yogurt
1 tablespoon mayonnaise
2 tablespoons honey
Combine broccoli, onion, raisins, and walnuts in a bowl. Stir dressing ingredients together until smooth and pour over the salad and toss. Refrigerate until ready to serve. This recipe keeps well in the fridge for a few days
Pesto Potato Salad
6 large potatoes, quartered, cooked, and drained
4 hard-boiled eggs, peeled and chopped
3/4 cup chopped celery
1/3 cup pitted chopped black olives
1 cup mayonnaise
1/2 cup pesto
2 tablespoons prepared mustard
salt and freshly grated pepper, to taste
4 slices cooked bacon, crumbled
1 small red onion, thinly sliced
Peel and dice potatoes and combine with eggs, celery, and olives. In another bowl, mix together mayonnaise, pesto, and mustard. Pour dressing over salad and toss gently until well blended. Salt and pepper to taste. Arrange crumbled bacon and onion rings on top.
*Pesto: Blend together at high speed 2 packed cups fresh basil leaves, 1 to 2 large cloves garlic, 2 tablespoons grated Parmesan cheese, 1/2 cup olive oil. When thoroughly blended, add 1/4 cup pine nuts and blend for 15 seconds more.
Square Dance Salad
8 cups mixed baby greens                                                                                                                                  8 ounces goat cheese or cream cheese                                                                                                            ¼ cup toasted bread crumbs                                                                                                                   Caramelized onions
Balsamic vinaigrette
4 tablespoons dried tart cherries                                                                                                                        3 tablespoons pine nuts, lightly toasted
Divide the cheese into eight balls and roll in bread crumbs to coat. Warm the cheese balls and the caramelized onions (below) in a pie pan in a 375° oven for about 8 minutes. In a large bowl, toss fresh mixed field greens with enough vinaigrette to lightly coat the leaves. Divide among plates and place warmed cheese balls and caramelized onions on each salad. Sprinkle with dried tart cherries and pine nuts, and serve.
Caramelized onions:
2 medium yellow onions, slice                                                                                                                            4 ounces butter
Melt butter in sauté pan, add sliced onions, and cook over medium heat until soft. Cover pan and reduce heat. Cook slowly, stirring once or twice, until onions are nice and brown but not burned, about 20-30 minutes.
Vinaigrette:
Dressing for approximately 8 salads
2 whole firm heads of garlic                                                                                                                              ½ cup balsamic vinegar                                                                                                                                       2 tablespoons honey mustard                                                                                                                       pinch of salt                                                                                                                                                   fresh ground black pepper                                                                                                                                 ½ cup sesame oil                                                                                                                                               1 ½ cups extra virgin olive oil                                                                                                                             ½ cup cold water
To roast the garlic, cut the top half inch off each head to expose the garlic cloves, place cut side up in an oven-proof dish, and drizzle with a little olive oil. Pour about ¼ inch of water in the dish, cover with foil, and bake in 375° oven for 20 minutes, or until soft and golden brown. When the garlic is cool enough to handle, squeeze out all the softened garlic cloves and mash to a paste with a fork.
Whisk together the garlic paste, vinegar, mustard, salt, and pepper. Slowly whisk in the oils until the mixture is emulsified and slightly thick. Whisk in cold water to thin. Refrigerate and bring back to room temperature shortly before using.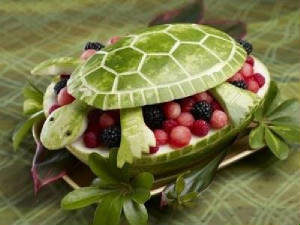 Watermelon Salad
3 cups chopped watermelon (seedless)
1 small red onion, thinly sliced
3 tbsp. red wine vinegar
juice of 1 lemon
1 tsp. of salt
2 tbsp chopped mint leaves
freshly ground pepper to taste
Combine watermelon and onions in a large bowl. Add vinegar, lemon juice, mint, and salt. Mix to incorporate all ingredients and add fresh black pepper to taste. Cover and refrigerate for an hour. Serves 6.
Tabbouleh (Parsley Salad)
1/2-cup bulgur wheat
2 medium to large tomatoes, cut into bite sized pieces
1 large cucumber, cut into bite sized pieces
1 small red onion, cut into bite sized pieces
2 cups finely chopped parsley
2 tablespoons finely chopped mint
1/2 cup olive oil
1/4 cup fresh lemon juice (2-3 lemons)
Salt and pepper to taste
Wash and drain the wheat. Mix the wheat with lemon juice, oil, salt, and pepper; set it aside until the wheat absorbs the juice. Combine with the other ingredients for a delicious and healthy salad. Makes 4 servings.
California Tabbouleh
1/2 cup bulgar (medium size)
1 cup stock or boiling water
1 lb tomatoes
1/2 cup green onion
1 can black beans
1 cup corn
2-3 cups cilantro
2 jalapeno peppers diced (rib and seeds removed)
1/8 teaspoon cayenne pepper
1/2 tsp. salt if using water
1/2 teaspoon pepper
1/4 cup citrus (lemon, lime and orange combination)
1/4 cup olive oil
optional:
Queso Fresco or mild Feta Cheese
Avocado
1 cup chopped cucumber
1 cup chopped red pepper
Pour 1cup boiling water over bulgar and allow bulgar to soften while you prepare the other ingredients. Chop tomatoes and leave in a colander to drain. Chop onion, cilantro and pepper. Rinse black beans. Drain and discard excess liquid from bulgar.
Toss bulgar, tomatoes, onion, cilantro, corn and beans. Dress with citrus juice and olive oil. Season to taste. It's best prepared a couple of hours or more ahead of serving to allow flavors to develop. (quinoa can be substituted for bulgar).
Balsamic Broccoli Salad
1 cup fresh broccoli, cut into bite-size pieces
2 tablespoons chopped red onion
1/4 cup light balsamic salad dressing
freshly ground black pepper
1 tablespoon grated parmesan/romano cheese blend
In a large bowl, combine the broccoli and onion. Drizzle the dressing on top. Season to taste with pepper. Toss to mix. Refrigerate for 1 hour to chill. Serve sprinkled with the cheese.
Market Salad
Goat cheese rounds
2 tablespoons sesame seeds
2 teaspoons ground cumin
1 1/2 teaspoons paprika
1 teaspoon finely chopped fresh thyme
1/4 teaspoon coarse kosher salt
1/8 teaspoon ground black pepper
16 (1/3-inch-thick) rounds chilled soft fresh goat cheese (from one 11-ounce log)
Vinaigrette
2 tablespoons red wine vinegar
1 shallot, minced
1 teaspoon chopped fresh thyme
1 teaspoon Dijon mustard
5 tablespoons extra-virgin olive oil
Coarse kosher salt
Mixed Salad
1 pound baby new potatoes halved
1 pound green beans (or mix of green and yellow), trimmed
8 cups mixed salad greens
1/3 cup (packed) small fresh basil leaves
12 ounces assorted small tomatoes
1/2 cup black olives
For goat cheese rounds: Line baking sheet with waxed paper or parchment paper. Mix first 6 ingredients in shallow bowl. Dip cut sides of goat cheese rounds into spice mixture to coat. Place on prepared baking sheet. Chill until ready to serve. DO AHEAD Can be made 1 day ahead. Cover and chill. Bring to room temperature before serving.
For vinaigrette: Whisk first 4 ingredients in small bowl. Gradually whisk in olive oil. Season with coarse salt and pepper. DO AHEAD Can be made 1 day ahead. Cover and refrigerate. Rewhisk before using.
For salad: Steam potatoes until just tender. Transfer to plate; cool. Steam green beans until crisp-tender. Rinse under cold water; drain. Pat dry with paper towels. DO AHEAD Potatoes and green beans can be made 6 hours ahead. Wrap separately in paper towels. Place in resealable plastic bag; chill.
Combine greens and basil in large bowl. Add enough vinaigrette to coat lightly; toss. Arrange on large platter. Add potatoes and green beans to same large bowl; add remaining dressing and toss. Arrange potatoes and beans atop greens. Scatter tomatoes and olives over. Surround with goat cheese rounds.