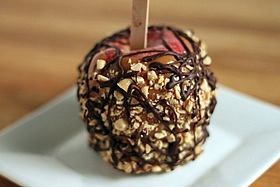 Caramel  Apples
Gather coverings for apples: chopped almonds, pecans, walnuts, and peanuts, sprinkles, toffee bits or crushed Oreos. Chopped small and they stick better.
Chose baking chips that can be easily melted and drizzled on apples. If apples are waxed, wash them with a little baking soda. Dry and remove the stems. Insert stick into stem end about 3/4 of an inch. Pierce apple with a knife to insert easily. Refrigerate apples to make the caramel harden faster.
Melt caramel bits. Add 2 tablespoons of water per bag of caramel bits or candies. Stir and stop heating when melted. Dip the apples in caramel. Spoon some on, too. Let excess drip off or scrape off the bottom with a spoon, too. The caramel will continue to drip as it hardens.
Roll apples in covering and press in with hand to help them stay in place and place on waxed paper. As some of the caramel drifts down, it will take these toppings with it. You may need to go back and gently pull the toppings back up and pat them back into the caramel.
Chocolate Dipped Mandarin Slices       Juicy sweet mandarin slices dipped in dark chocolate sprinkled with sea salt.
5 mandarin oranges
1/2 cup semi-sweet chocolate or dark chocolate chips
sea salt or coarse salt
1 teaspoon shortening, optional
Line a baking sheet with parchment and set aside. Peel the mandarin oranges. Melt chocolate chips and add shortening. Shortening helps make chocolate smooth and easier to work with. Dip each slice half into the melted chocolate and place on prepared baking sheet. Sprinkle with salt and repeat until all slices are evenly coated and sprinkled with salt. Refrigerate for 10 minutes until chocolate has hardened. Slices will keep up to 2 days in an airtight container or storage bag in the fridge.
Cinnamon Apple Rings
4 large Granny Smith apples
1 cup flour
1/4 teaspoon baking powder
2 tablespoons sugar
1/4 teaspoon salt
1/4 teaspoon cinnamon
1 large egg, beaten
3/4 cup milk
2 teaspoons pure vanilla extract
vegetable oil for frying
For the cinnamon-sugar topping:
1/3 cup sugar
2 teaspoons cinnamon
Whisk together the flour, baking powder, sugar, salt and cinnamon. Beat together the egg, milk, and vanilla. Slice apples into 1/4-inch thick slices, and remove the center of each slice with a small biscuit cutter or apple corer.
Heat 1/2-inch of oil in a large skillet until it reaches 350 degrees F. Mix the egg/milk/vanilla mixture into the flour mixture and whisk until a smooth batter has formed. Dip apple rings in the batter, allowing excess batter to drip off before adding to the oil. Fry apple rings, 2 or 3 at a time, until golden, about 1 minute per side.
Remove rings from oil and drain on a paper towel lined plate for a moment before dipping apple ring into the cinnamon-sugar topping.
Serve warm (with ice cream, if you like), or at room temperature.
Brandied Cherries
Yield: 1 quart
1 pound sweet cherries, such as Bing or Ranier
1 ceylon cinnamon stick
2 vanilla beans
1 1/2 cups brandy
1/2 cup sour cherry juice
1 cup unrefined cane sugar
Pluck stems from the cherries, but keep the pits in, and drop the fruit into a quart-sized jar. Arrange the cinnamon stick and vanilla beans among the cherries.
Place a medium saucepan over medium heat, and pour in the sour cherry juice, brandy and sugar. Warm the liquids together with the sugar until it dissolves completely, then remove it from the heat and pour it over the cherries. Seal the jars, and let the jar sit on a sunny windowsill in your kitchen for at least one month and up to six weeks, shaking the jar once a week, before transferring them to a dark cupboard. Eat them within one year.
Banana Bites – Use bananas with least curve. Peel and slice off ends of each banana. Cut banana into two 3″ long pieces (2-3 banana bites per banana). Hollow out the center on one side leaving about half-inch banana at bottom. Dip flat end of your banana into melted chocolate and roll in nuts. Place on wax paper to dry. Refrigerate until chocolate has set. Remove bananas from refrigerator and pipe peanut butter into the hollows.
Baked Apples
Cut off the top of 4 apples and discard. Remove the inside of each apple with a spoon or melon baller and save for filling. Do not puncture the peel. You may need to chop additional apples for filling. Mix chopped apple with sugar and cinnamon in a bowl. Scoop chopped apples into hollow apples. Roll out piecrust and slice into ¼ inch strips and cover the top of the apple in a lattice pattern. Place apples in an 8×8 pan. Add just enough water to the cover the bottom of the pan. Cover with foil and bake for 20-25 minutes. Remove foil and bake for an additional 20 minutes or until crust is golden brown and apples are soft.
Apple Butter
8 C. stewed and pureed (organic) apples
3 C. brown sugar
1/2 tsp ground cloves
1/2 tsp ground nutmeg
1 tsp ground cinnamon
1 C. cider vinegar
Turn oven on to 200 degrees (F). Stir all ingredients in an oven safe pan. Bake for 6 hours, or until reduced by half. Fill jars leaving 1/4 inch head space. Stir with a butter knife to release potential air pockets. Wipe rims and place two part lids on jars. Place in hot water bath and process for 5 minutes. Remove jars from water and cool.
CURRIED FRUIT
Arrange fruit in casserole dish- peaches, pineapple, pears, mandarin oranges , and cherries.
Melt 1/3 cup butter and add 3/4 cup brown sugar and 3 teaspoons curry powder and pour over the fruit. Bake 1 hour uncovered at 325 degrees. Serve warm.
" VARIETY IS THE SPICE OF LIFE! "
Applesauce is so easy to make and you don't need to sugar it up. Taste and see.. Add cinnamon, cloves or nutmeg or any spice you love! Don't add much water to them when you cook them because they are full of water!
Mix fresh sliced peaches with Fruit Fresh and put in quart bags in the freezer. Freeze blueberries on a sheet pan after washing and drying them and put them in quart bags to have through winter in pancakes and muffins.