Corn Quiche
3 large eggs
1/2 small onion, coarsely chopped
1 tablespoon all purpose flour
1 tablespoon sugar
1 teaspoon salt
1 1/3 cups half and half
3 tablespoons butter, melted
2 cups fresh corn kernels (about 2 ears)
1 deep-dish frozen pie crust, thawed
Preheat oven to 375°F. Combine first 5 ingredients in processor; blend until onion is finely chopped. Add half and half and butter; process until blended. Transfer to large bowl. Mix in corn. Pour into crust. Bake until filling is slightly puffed and top is golden, about 50 minutes. Transfer to rack; cool slightly and serve.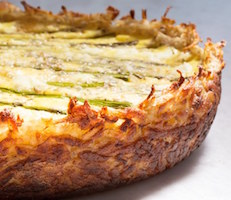 Asparagus and Cheese Quiche with Hash-Brown Crust
4 medium russet potatoes (about 2 pounds), peeled
1 1/2 teaspoons kosher salt, divided
3/4 teaspoon freshly ground black pepper, divided
2 tablespoons vegetable oil
3 tablespoons unsalted butter, divided
4 medium shallots, thinly sliced
6 large eggs, room temperature
1 1/4 cups half-and-half
1 teaspoon mustard powder
Pinch of grated nutmeg
1 tablespoon finely chopped tarragon
5 ounces Fontina cheese, grated (about 1 1/2 cups)
4 ounces fresh goat cheese, crumbled (about 3/4 cup)
1/2 bunch asparagus (about 1/2 pound), ends trimmed
Preheat oven to 350°F. Using a coarse grater, shred potatoes and toss with 1 tsp. salt and 1/2 tsp. pepper in a large bowl. Transfer to a dishtowel, gather ends of towel, and thoroughly wring out excess liquid. Transfer potatoes to a bowl and set aside.
Heat oil and 2 Tbsp. of butter in an iron skillet at medium heat. Add potatoes and start forming a crust by pushing potatoes flat against bottom and sides of pan with a dry measuring cup. Continue cooking. Press potatoes up sides of pan if they start shrinking, until they are bound together and bottom crust is browning, about 10 minutes. Remove pan from heat and set aside.
Melt remaining 1 Tbsp. of butter in a pan over medium heat. Add shallots and sauté 5-6 minutes; set aside.
Whisk eggs, half-and-half, mustard powder, nutmeg, remaining 1/2 teaspoon salt, and remaining 1/4 teaspoon pepper in a large bowl. Whisk in tarragon and set aside.
Sprinkle Fontina cheese, goat cheese, and sautéed shallots evenly over bottom of crust, then pour in egg mixture. Arrange asparagus decoratively on top. Bake until set and crust is browned, 35 minutes. Cool before cutting and serving.
Breakfast Casserole
5 eggs
1/4 cup milk
16 oz refrigerated Pillsbury flakey breakfast biscuits
4 scallions
1 cup shredded extra sharp cheddar cheese
Cut bacon or cooked sausage
Grease a 9×13 pan. Mix eggs and milk in a large bowl. Cut each biscuit into fours and add it to the bowl. Cut up scallions, shred cheese, cook and break up bacon. Add everything to the bowl. Mix it up and pour into pan. Bake at 350 for 30 minutes
 Egg Muffins
Muffin/cupcake pan (heat the pan before coating with oil so they won't sticking)
. Veggies/mix-ins of your choice. Pour beaten eggs into greased muffin pan and fill 1/2 way
. Add toppings directly into eggs
. Bake 375-degrees for 30 minutes. 
Avocado, Eggs, and Cheese
Whole avocado
Eggs
Cayenne
pepper (or any spice of your choice)
Cheese
Remove the pit from an avocado. Scoop out a little more avocado to increase the size of the pit's crater. Crack an egg into the crater. Sprinkle with Cayenne pepper (cheese too if you desire). Bake in the oven at 180 degrees until egg is cooked how you like.
Breakfast Bacon Cups
White or Wheat Bread
Bacon
Shredded Cheddar Cheese
Eggs
Butter
Maple Syrup
Salt & Pepper
Amounts will vary depending on how many you plan to make.
Pre-heat oven to 400 degrees. Partially cook the bacon for about 3-5 minutes in a large skillet set to medium-high. You want bacon to be a little cooked but still pliable. Mix maple syrup and butter in a small saucepan and heat so butter melts (½ a stick of butter and a cup or so of syrup).
Using a biscuit cutter, cut 3 inch diameter circles out of the bread slices Grease/non-stick spray muffin pan and line with bacon so that it circles each mold. Brush each side of the bread with the syrup/butter mixture and place in cup so that it rests evenly at the bottom of the mold. You may have to do a little trimming of the bread but it's ok if it doesn't fit perfectly either. Crack an egg into each mold, season with salt and pepper and give each cup a sprinkle of cheese. Place in oven for 7-8 minutes for a slightly runny egg. If you want a solid yoke cook 10 minutes
Baked Hard-Cooked Eggs: The best way to make "hard-boiled" eggs is in the OVEN! Place the eggs in a muffin tray so they do not move around, turn the oven to 325 degrees, pop in for about 25-30 minutes and remove! Not only are they tastier, but they also are much easier to peel!
Make a heart shaped egg:
Freshly boiled Egg
Milk carton or juice carton (cut open, washed well and dried)
Chopstick (round or a skewer)
Rubber bands
Cut milk carton and fold it in half lengthwise. The milk carton is about 3″ X 8″.
Take a freshly cooked warm hard-boiled egg and put the egg in the milk carton, place a chopstick or skewer across the center, and put rubber bands on both ends. Egg is freshly boiled or it might break from the pressure.