CRISPY SHEET PAN BROWNIES
1/2 cup (1 stick) unsalted butter
1 1/4 cups sugar
3/4 cup unsweetened cocoa powder
1 teaspoon vanilla extract
1/4 teaspoon kosher salt
2 cold large eggs
1/2 cup all-purpose flour
1 full cup FINELY chopped walnuts or pecans
Position rack in center of oven; preheat to 325°F. Generously butter an 18x13″ rimmed baking sheet (do not line with parchment). Melt ½ cup butter in a small bowl. Mix sugar, cocoa powder, vanilla, and salt in a medium bowl. Add butter and stir until smooth. Add eggs one at a time, stirring vigorously with a wooden spoon after each addition until batter is thick, shiny, and smooth. Stir in flour and beat vigorously for 30–40 strokes. Stir in nuts or chocolate chips. I use buttered hands to spread the batter very thin and even to the edges of the sheet (batter seems scant but they will rise to about 1/4″ thick. Bake brownies until firm, 15–18 minutes. I carefully cut them in the pan while hot. Then transfer them to parchment paper to cool or a wiore rack.
BROWNIE COOKIES
3 cups gluten-free powdered sugar
3/4 cup unsweetened cocoa powder
1 teaspoon kosher salt
2 large egg whites
1 large egg
4 ounces bittersweet chocolate, chopped
3 tablespoons cacao nibs
Place racks in lower and upper thirds of oven; preheat to 350°F. Whisk powdered sugar, cocoa powder, and salt in a large bowl, then whisk in egg whites and egg; fold in chocolate and cacao nibs. Spoon the batter by the tablespoonful onto 2 parchment-lined baking sheets, spacing 2″ apart. Bake, rotating sheets once, until cookies are puffed, cracked, and set just around the edges, 14–16 minutes. Let cookies cool on pan to firm up.
Snickerdoodle Cookies
1½ cups all-purpose flour
1 teaspoon baking soda
1 teaspoon cream of tartar
1 stick cold unsalted butter in ½ inch pieces
¼ teaspoon kosher salt
1 cup sugar, divided
1 large egg, room temperature
2 teaspoons ground cinnamon
Whisk flour, baking soda, and cream of tartar in a medium bowl. Beat butter in a large bowl until pale yellow, 2–3 minutes. Scrape down sides, add salt and ¾ cup sugar, and beat until light and fluffy. Scrape down sides, add egg, and blend. Reduce mixer speed to low and gradually add dry ingredients.
Shape dough into a ball, wrap in plastic wrap, and chill until firm, about 30 minutes.
Place racks in upper and lower thirds of oven; preheat oven to 375°F. Line 2 baking sheets with parchment paper. Mix cinnamon and remaining ¼ cup sugar in a small bowl. Roll tablespoonfuls of dough into balls and then roll in cinnamon sugar and place on prepared sheets, spacing about 2″ apart.
Bake cookies, rotating sheets halfway through, until just golden brown around the edges. Let cookies cool a few minutes, then transfer to wire racks and cool completely.
Caramel Cupcakes
1 1/2 cup unbleached all-purpose flour
1 cup natural cane sugar
1 tsp baking soda
1/2 tsp salt
3/4 cup unsweetened original almond milk (or rice milk)
1/2 cup vegetable oil
2 tbsp apple cider vinegar
1 tbsp pure vanilla extract
Frosting:
1/4 cup vegan margarine (such as Earth Balance)
1/2 cup dark brown sugar
1/8 cup unsweetened original almond milk (or rice milk)
1/8 tsp salt
3/4 tsp pure vanilla extract
1 1/2 cup powdered sugar
Coarse salt
Preheat the oven to 350 degrees and line a 12-cup tin (or two 6-cup tins) with paper liners.
In a large bowl, add the flour, sugar, baking soda and salt and mix. In a smaller bowl, whisk together the almond milk, oil, vinegar and vanilla. Pour the wet ingredients into the dry ingredients and stir gently until just combined.
Fill the cupcake liners with batter until about two-thirds full. Place in the oven and bake for about 20 minutes or until a toothpick inserted in a cupcake comes out dry. Remove the tin and let cool on a wire rack.
Make the frosting. In a medium saucepan over medium-low heat, melt the margarine. Add the dark brown sugar, almond milk and salt. Whisk together, and allow it to come to a high simmer. Reduce heat to low and let the mixture simmer for three to four minutes, then remove from heat. Add the vanilla, stir, and pour into a large mixing bowl. Let it cool to room temperature.
When the caramel mixture has cooled, add the sugar a little at the time using a mixer on low speed. It should be thick enough that a dollop placed on a plate holds it shape without spreading out too much. Using a pastry bag (or a butter knife) frost the cupcakes. Sprinkle a little coarse salt on top of each cupcake.
Almond Joy Cookies
1 cup butter
1 1/2 cups white sugar
1 1/2 cups brown sugar
4 eggs
3 teaspoons vanilla
4 1/2 cups flour
2 teaspoons baking soda
1 teaspoon salt
5 cups chocolate chips
2 cups sweetened coconut
2 cups chopped almonds
Pre-heat oven to 375°F and lightly grease cookie sheets.
Combine dry ingredients, set aside. In a large bowl, cream the butter and sugars. Beat in the eggs, one at a time, stir in the vanilla. Stir in the dry ingredients until well mixed then stir in the chocolate chips, coconut and almonds. Drop by rounded tablespoonfuls onto the prepared cookie sheets. Bake for 8 to 10 minutes. Cool on baking sheet.
3 INGREDIENT COCONUT MACAROONS
Coconut macaroons are toasted on the outside and chewy in the center.
3 egg whites
2 cups shredded coconut
½ cup sugar
Preheat oven to 325F and line a baking sheet with parchment paper. Whisk the egg whites and sugar until foamy. Add the shredded coconut and stir gently with a spatula. Transfer into a piping bag and drop macaroons on the parchment paper.
Bake for 20-25 minutes or until golden and set. Keeps in an airtight container for up to 4 days.
Gingerbread Scones
2 cups all-purpose flour
3 tablespoons brown sugar
2 teaspoons baking powder
1 teaspoon ground ginger
1/2 teaspoon salt
1/2 teaspoon baking soda
1/2 teaspoon ground cinnamon
1/4 cup cold butter, cubed
1/3 cup molasses
1/4 cup milk
1 egg, separated
Coarse sugar
Preheat oven to 400°. In a large bowl, whisk the first seven ingredients. Cut in butter until mixture resembles coarse crumbs. In another bowl, whisk molasses, milk and egg yolk until blended; stir into crumb mixture until moistened. Turn onto a lightly floured surface; knead gently 6-8 times. Pat into an 8-in. circle. Cut into 12 wedges. Place wedges 1 in. apart on a greased baking sheet.
In a small bowl, beat egg white until frothy; brush over scones. Sprinkle with sugar. Bake 12-15 minutes or until golden brown.
Vegan Coconut Oatmeal Cookies
1/2 cup coconut oil, softened
2/3 cup pure cane sugar
1 tablespoon cornstarch
2 tablespoons water
1/2 teaspoon vanilla extract
3/4 cup unbleached all-purpose flour
1/2 teaspoon baking soda
1/2 teaspoon cinnamon
1/4 teaspoon salt
1 1/2 cups rolled oats (old-fashioned oats)
1 1/2 cups unsweetened coconut shreds
Preheat the oven to 350 F. In a medium bowl, whisk together the cornstarch and water. Add the coconut oil, sugar, and vanilla extract and beat until creamed.
Combine the all-purpose flour, baking soda, cinnamon, salt, and rolled oats. Stir.
Add the dry ingredients to the creamed mixture. Stir until combined. Fold in the unsweetened coconut shreds.
Line a baking sheet with parchment paper. Drop 1 1/2 inch balls of dough onto the baking sheet 2 inches apart and press them down a little with a fork. Bake for 10-12 minutes. Cool for 5 minutes on a rack before serving.
Lavender Cookies
2 1/2 cups all-purpose flour
1 teaspoon baking powder
1 tsp dried lavender
1 cup softened butter
1 cup sugar
1 teaspoon vanilla extract
2 eggs
In a small bowl, mix the flour, baking powder and lavender. Beat the sugar and softened butter. Once the mixture is creamy and fluffy, add the vanilla and eggs, one at a time. Add the flour and baking powder mixture and fold in with a wooden spoon until blended. Make a 12-inch roll and wrap it in a sheet of plastic. Keep it refrigerated until it becomes firm. Preheat oven to 375 degrees F. Grease baking sheets lightly. Roll the dough into small balls and place them on your baking sheets. Keep the cookie mixtures about 1 inch apart from each other. Press lightly with a fork. Bake for 12 minutes or until lightly golden.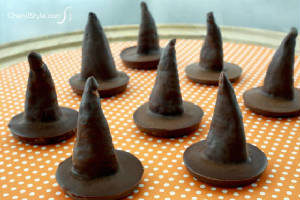 Halloween Witch Hat Treats
24 witch hats
1 bag Bugles corn snacks
10 oz pkg candy melts, any desired color or flavor
1 cup finely chopped nuts or puffed rice cereal
mini-muffin tin
Pick out 24 bugles that are unbroken and resemble the shape of witch hats. Lightly coat a mini-muffin tin with non-stick spray. Melt chocolate. Pour ½-¾ cup of melted candy into a small juice glass or jelly jar then reserve to dip Bugles. Stir chopped nuts or puffed rice cereal into remaining candy and stir until combined. Spoon 1½–2 tsp candy into the bottom of each muffin cup for hat brims. Tap pan gently on countertop to settle candy down evenly with a smooth surface. Dip the pointed end of each bugle in the reserved candy. Submerge completely then tap gently on side of the cup to remove excess candy. Gently place one candy-coated Bugle onto the center of each muffin cup. Repeat for all 24 hats. Dip a toothpick into remaining candy and dab a tiny bit on the tip of each hat to cover. Let the witch hats set, then pop them out of the muffin tin, and watch them do a disappearing act!
Chocolate Kissed Grain Free Coconut Macaroons
¼ cup coconut sugar
3 cups unsweetened coconut flakes
1 Tsp pure vanilla extract
1 tsp almond extract
3 extra-large egg whites at room temperature
¼ teaspoon sea salt
Preheat oven to 325 degrees. Whip the egg whites until firm peaks. Mix vanilla and almond extract into the egg whites. Mix sugar slowly into egg whites. Fold coconut into the stiff egg whites. Drop the batter onto sheet pans lined with parchment paper. Bake 15 minutes until golden brown. Cool and serve.
Chocolate Dip: Melt 6 oz of 70% dark semi-sweet baking chocolate over a double boiler. When the macaroons are cooled dip one edge of the cookie into the chocolate. Place cookie on parchment to set.
Cream Cheese Coconut, Snowball's
8 ounces cream cheese, softened.
8 ounces crushed pineapple, drained.
3 cups flaked coconut.
1 cup chopped pecans
Beat cream cheese and pineapple and fold in the pecans. Cover and refrigerate for 1 hour. Then roll into 1 inch balls and roll in the coconut. Refrigerate overnight.
Lemon and Ginger Bliss Balls
Recipe by Not Quite Nigella
Preparation time: 15 minutes
2 cups ground almonds (or you can use whatever nut you like)
4 tablespoons honey or rice malt syrup
4 medjool dates, seeds removed
1 tablespoon finely grated fresh ginger
1 tablespoon finely grated lemon zest
2 teaspoons lemon juice
1 teaspoon vanilla
Blend all ingredients in a food processor. Taste for flavour and add more according to taste. Roll into balls.
Chocolate Cookies
These cookies are made with absolutely zero fat.
1/2 cup unsweetened cocoa powder
pinch of salt
1/2 cup sugar divided
3 large egg whites
1/8 tsp cream of tartar
1 tsp vanilla extract
1 tbsp confectioners' sugar
Preheat oven to 300°F. Line 2 baking sheets with foil. In small bowl, sift together cocoa, salt, and 1/4 cup of the sugar. In large bowl, with electric mixer at medium low speed, beat egg whites and cream of tartar until soft peaks form. Beat in remaining 1/4 cup sugar, 1/2 tablespoon at a time, until meringue is glossy and stiff peaks form. Fold in cocoa mixture and vanilla extract.
Drop by rounded teaspoonfuls about 1″ apart onto prepared baking sheets. Bake 25 minutes for soft chewy cookies or 40 minutes for crisp ones. Dust cooled cookies with confectioners' sugar.
Nutella Brownie Bites
1 cup nutella
2 eggs
½ cup plus 2 Tb all purpose flour
¼ tsp salt
¼ cup chocolate chips (optional)
Preheat oven to 350 degrees F. Line a 12-cup muffin tin with paper liners. Microwave the Nutella for a few seconds to soften. Mix together eggs and Nutella in a medium bowl until smooth. Add in flour and mix until just combined. Evenly spread into prepared muffin cups. Sprinkle each with a few chocolate chips. Bake 12 minutes.
Gingerbread Men
½ cup shortening 1 teasp. ginger
½ cup brown sugar 2 teaspoons cinnamon
½ cup molasses 3 ½ cups flour
½ cup buttermilk ½ teasp. Salt
½ teasp. Vinegar 1 teaspoon soda
Cream the shortening and add sugar gradually. Stir in the molasses and add 1 ¼ cups of flour( sifted with soda, salt, and spices. Stir thoroughly and add remaining flour alternately – with milk and vinegar(mixed). Chill dough; roll about 1/3 inch thick on floured board; use gingerbread boy cutter. Place on baking sheet and bake at 375 degrees for 10 – 15 minutes. Yields 26 boys. Use currants for features . . . or whatever. They are smaller and easier to work with.
Stir in a small bowl to make a paste: ¼ cup confectioner's sugar,
A few drops of water and add the water slowly just till it's spreadable.
Lemon Meltaway Balls
Gluten Free, Grain Free, Raw Vegan
1 1/2 cup almond flour
1/3 cup organic raw coconut flour
1/2 teaspoon pink himalayan salt
1 – 2 tablespoon organic maple syrup (or raw honey for non-vegan)
3 organic lemons (fresh squeezed juice)
2 teaspoons organic vanilla extract
1/4 cup organic coconut oil (melted/liquid)
Put all ingredients into a food processor and process until well combined. Take out a spoonful at a time and roll in the palms of your hand to shape. Leave plain or roll in shredded coconut flakes, almond flour, or powdered sugar. Put in the refrigerator to firm for about 10 – 15 minutes. Keep in refrigerator until ready to serve.
Lemon Thyme Shortbread Cookies
2 ¼ cups all-purpose flour
1 tablespoon fresh lemon thyme leaves
1/8 teaspoon salt
1 cup unsalted butter, softened
½ cup sugar
½ teaspoon vanilla extract
Combine flour, thyme leaves, and salt in a small bowl, and set aside. Process butter and sugar in a food processor until smooth. Add vanilla; process 15 seconds. Add flour mixture; pulse 10 to 12 times until dough pulls away from sides of bowl and forms a ball.
Divide dough in half. Roll each half to ¼-inch thickness on a lightly floured surface, adding just enough flour to keep the dough from sticking. Cut with a 2-inch cookie cutter, and place cookies 1 inch apart on parchment-lined cookie sheets. Place cookie sheets in freezer for 20 minutes or until cookies are firm to the touch.
Bake at 275 for 30 minutes or just until edges begin to brown. Remove to wire racks to cook completely.
Lemon squares
1 cup all-purpose white flour
1/4 cup confectioners' sugar
1/2 cup (1 stick) butter or margarine
2 eggs
1 cup white sugar
1/4 teaspoon salt
1/2 teaspoon baking powder
2 tablespoons lemon juice
Confectioners' sugar or coconut
Preheat the oven to 350 degrees F.
Mix the flour and 1/4 cup confectioners' sugar. Cut in butter until mixture has consistency of cornmeal. Press mixture evenly on the bottom of ungreased 9-inch square pan. Bake 20 minutes.
Meanwhile, beat eggs, white sugar, salt, baking powder, and lemon juice together til light and fluffy. Pour over hot, partially baked crust. Return to oven and bake for 25 minutes. Cool completely. Dust with confectioners' sugar or coconut. Cut into squares.
Cheese Wafers
1 1/4 lb local cheddar cheese, grated, room temperature
1 stick local butter, room temperature
1 cup self-rising flour
3/4 cup all-purpose flour
1/4 tsp red pepper
1/4 tsp cayenne pepper
1/2 tsp dry mustard
Cream together butter and cheese. Sift flour, pepper, and mustard together. Gradually add dry ingredients to creamed mixture, mixing well after each addition. Shape into little marbles with your fingers and then flatten with a fork. Bake for 17 to 20 minutes in a 350 degree preheated oven. Do not let them get too brown.
Apple Cupcakes
Preheat oven to 350°F. Lightly grease 12 muffin cups or line with paper liners.
2 large apples, chopped ½ cup water
½ cup butter, room temperature 1 cup sugar
2 large eggs 1 teaspoon vanilla extract
2 cups all-purpose flour 1 teaspoon salt
1 teaspoon baking soda
Place apples and water in a medium pot; bring to a boil over high heat. Reduce to a simmer and cook until softened, 15 to 25 minutes. Transfer apples, using a slotted spoon, to a food processor; puree until smooth. Set aside. Cream butter and sugar together in a large bowl until fluffy. Beat in eggs, one at a time. Add apple puree and vanilla; beat until smooth. In a medium bowl, sift together flour, salt, and baking soda. Stir flour mixture into butter mixture, slowly beating until just combined. Spoon into muffin cups. Bake until tops are springy to the touch, 15 to 18 minutes.
Gooey Butter Cookies
1 package (8 oz) cream cheese, softened
½ cup butter, softened
¼ teaspoon vanilla
1 egg
1 box Betty Crocker® SuperMoist® yellow cake mix
Heat oven to 375 degrees. In medium bowl, beat cream cheese and butter with spoon until well blended. Stir in vanilla and egg. Add cake mix; stir until well combined. Shape dough into 1-inch balls; roll in powdered sugar to coat. Place them 1 inch apart on ungreased cookie sheets. Bake 11 to 15 minutes.