RAW CHOCOLATE
250 grams (9 ounces) of each would make 50 small chocolates.
Equal proportions of:
Raw Organic Cacao Powder
Raw Organic Cacao Butter
Raw Vanilla Powder
Raw Agave Syrup (sweetener/ butter/ powder can vary to taste)
Bring the water to boil. Chop the Cacao Butter and set it in the bowl.
Remove boiling water from the heat, and set a bowl on top of it. Allow the Cacao Butter to melt down. The Cacao Butter should not get hotter than 45 degrees Celsius to ensure nutritional properties remain intact. Stir the Vanilla powder into the melted Cacao Butter. Add any other powder/oil taste elements at this stage. Sieve in the Cacao Powder and mix thoroughly until smooth. Add in the Agave Syrup (or other sweetener) and mix until completely blended. Stir any other ingredients such as nuts, seeds, dried fruits or superfood powders into the chocolate mix.
Pour or spoon the Raw Chocolate into a mould and allow it to set about 30 minutes in the fridge. Pop out the Raw Chocolates and share.
Candied Orange Peels
1 large navel orange
3/4 cup granulated sugar
1/2 cup water
3/4 cup chopped semisweet chocolate
Using a peeler, cut 3-inch long, 3/4-inch wide strips of orange peel from the orange. Bring a saucepan of water to a boil and simmer the orange peels for 10 minutes. Drain the peels, rinse them with cold water, and boil them in fresh water for an additional 10 minutes; repeat this process 1 more time.
Bring sugar and water to boil in a saucepan and stir until sugar is dissolved and mixture reduced in volume a bit. Add orange peels and simmer for 15 minutes. Transfer the orange peel to a wire drying rack and allow it to sit undisturbed for 45 minutes.
Line a baking sheet with parchment paper. Place chocolate in a double boiler and stir until melted. Dip 2/3 of the length of each orange strip in chocolate, leaving 1/3 of peel exposed, and place on the baking sheet. Allow to set.
Chrispy Sheet Pan Brownies
1/2 cup (1 stick) unsalted butter, plus more for pan1 1/4 cups sugar
3/4 cup unsweetened cocoa powder
3/4 teaspoon vanilla extract
1/4 teaspoon kosher salt
2 cold large eggs
1/2 cup all-purpose flour
1 cup finely chopped walnuts or pecans
Position rack in center of oven; preheat to 325°F. Generously butter an 18×13″ rimmed baking sheet. Melt remaining 1/2 cup butter in a small bowl in the microwave or over a pot of simmering water. Mix sugar, cocoa powder, vanilla, and salt in a medium bowl. Pour butter over and stir until smooth. Add eggs one at a time, stirring vigorously with a wooden spoon or rubber spatula after each addition, until batter is thick, shiny, and smooth. Stir in flour, then beat vigorously for 30–40 strokes. Add nuts or chocolate chips.
Spread batter into a thin, even layer to edges and into corners of prepared sheet (batter seems scant but brownies will rise to about 1/4″ thick).
Bake brownies until firm to the touch, 15–18 minutes. I cut them while hot and let cool before I store them.  Store in an airtight container at room temperature, or freeze up to 6 months.
Chocolate Bars
1 cup cacao powder
1 cup coconut oil
1 cup coconut palm sugar
You may also add one or two of these ingredients: chopped almonds, coconut flakes, vanilla, cinnamon, peanut butter.
Dark Chocolate Avocado Brownies
Flaxseed egg: 1 tablespoon flaxseed meal, plus 3 tablespoons warm water
¾ cup gluten- free all- purpose flour
¾ cup unsweetened cocoa powder
1teaspoon aluminum- free baking powder
½ teaspoon spirulina powder
¼ teaspoon sea salt
½ ripe avocado, pitted, peeled, and mashed until smooth
½ cup unrefined coconut oil
¼ cup hot water
1 teaspoon organic vanilla extract
½ cup packed organic light or dark brown sugar
1 teaspoon baking soda
1 tablespoon raw, unfiltered apple cider vinegar
1 cup semisweet or bittersweet chocolate chips (preferably with a minimum of 65 percent cacao) or 1 cup chopped bittersweet chocolate (not milk or dairy chocolate)
Preheat oven to 350°F. Grease an 8-or 9-inch square baking dish with coconut oil and set aside. In a small bowl, combine flaxseed meal and hot water; set aside. In a medium bowl, whisk together flour, cocoa powder, baking powder, spirulina, and salt. Set aside.
In a large bowl, whisk together the avocado, water, coconut oil, and vanilla extract. With an electric mixer, beat in the brown sugar till smooth. Add the dry ingredients to the wet, and beat.
In a small bowl, combine the baking soda and apple cider vinegar. When the mixture fizzes, stir into the brownie batter along with the coagulated flaxseeds. Fold in the chocolate chips. Put into the baking dish and smooth the surface. Bake 20 to 25 minutes until the sides are pulling away from the pan. Remove. cool 1 hour and cut into squares.
Chocolate Satin Mousse
10 ounces 70% bittersweet chocolate, finely chopped
1/2 teaspoon fine sea salt
1 teaspoon pure vanilla extract
2 cups heavy cream
3 large egg whites, free-range and organic, at room temperature
1 cup confectioners' sugar, sifted
Special Equipment
Place chocolate in the metal bowl. Sprinkle with the salt and vanilla extract.
In a saucepan, bring the cream to a simmer over medium heat. Pour the hot cream into the chocolate and rapidly mix with a wooden spoon to melt the chocolate until you have a smooth and glossy texture, about 2 minutes. Let cool.
Whisk the egg whites at the highest speed until frothy and soft peaks form. Add the sugar 1 tablespoon at a time and whisk at the highest speed until satiny and stiff peaks form. The mixture should be airy, glossy, and stiff like a meringue.
Add about one-quarter of the egg white mixture to the cooled chocolate mixture to lighten it. Whisk gently until no streaks of white remain. Spoon the rest of the whipped egg white on top of the mixture in the bowl. Fold in the whipped egg white by hand. Continue cutting into the mixture and folding until just incorporated.
Pour into the serving bowl and cover with plastic wrap. Refrigerate until firm, at least 6 hours. The dessert will be firmer than a mousse but not as firm as a cake or brownie. Scoop into ice cream bowls with an ice cream scoop or large, rounded spoon. Serve chilled.
Variation: Mix about 1/2 cup cocoa nibs into the chocolate mixture before folding, and/or sprinkle the top of the satin with cocoa nibs at serving time.
This dessert can be prepared up to 1 week in advance, covered with plastic wrap, and refrigerated.
For best results use Lindt Excellence 70% chocolate. In chocolate with less than 70% cacao, the final result will not always be firm enough.
Chocolate-Raspberry Soufflé
1/4 cup unsalted, shelled raw pistachios
Unsalted butter (for ramekins)
1/2 cup sugar, plus more for ramekins
6 ounces high-quality bittersweet chocolate, chopped
1/4 cup high-quality raspberry jam or jelly
1 large egg yolk
1/4 teaspoon kosher salt, plus more
6 large egg whites, room temperature
1/2 cup heavy cream
Position rack in center of oven; preheat to 375°F. Toast pistachios on a rimmed baking sheet, tossing once, until fragrant and slightly darkened, 5–6 minutes. Let cool slightly, then coarsely chop.
Butter ramekins, making upward strokes up the sides with a pastry brush. Sprinkle with sugar, tilting to coat completely and tapping out any excess. Arrange prepared ramekins on baking sheet.
Combine chocolate and jam in a medium heatproof bowl set over a saucepan of barely simmering water (do not let bowl touch water); stir constantly until chocolate is melted and mixture is smooth, 1–2 minutes. Remove bowl from heat. Stir in egg yolk and 1/4 tsp. salt.
Beat egg whites and a pinch of salt until frothy. Gradually add 1/2 cup sugar, 1 Tbsp. at a time, and beat until medium peaks form. Fold one-quarter of the beaten egg whites into chocolate mixture to lighten. Fold in remaining egg whites in 2 batches. Divide batter among prepared ramekins, filling completely.
Transfer baking sheet with ramekins to oven and bake soufflés until puffed and tops feel firm to the touch, 18–20 minutes.
In an electric mixer on medium-low speed, beat cream until soft peaks form. Dollop soufflés with cream, top with chopped pistachios, and serve immediately.
Salted Chocolate Caramel Tart

1/3 cup Dutch cocoa powder
1 1/2 cups all-purpose flour
2 egg yolks
1 teaspoon vanilla extract
Sea salt, to serve
For the caramel filling:
3/4 cup half and half
90 g unsalted butter
1 1/2 cups superfine sugar
1/2 cup water
1/2 teaspoon sea salt flakes
For the chocolate glaze:
1/2 cup half and half
125 g dark chocolate, chopped
For the crust:
Preheat oven to 350°F. Place the butter and sugar in a food processor and process until pale. Add the cocoa, flour, egg and vanilla and process to a smooth dough. Press into the base and sides of a 26cm loose-bottomed, fluted tart tin to 5mm thick. Trim the edges and refrigerate until firm. Prick the dough with a fork and bake for 15 minutes or until the pastry is cooked. Set aside.
For the caramel filling:
To make the filling, place the cream and butter in a saucepan over medium heat until melted. Set aside. Place the sugar and water in a saucepan over low heat and stir until the sugar has dissolved. Increase the heat to high and boil, without stirring, until dark golden and the mixture reaches 170°C (340°F) on a sugar thermometer. Remove from the heat and carefully whisk in the cream mixture. Return the pan to low heat and stir for 5 minutes or until thickened. Pour into the pastry shell and refrigerate until firm.
For the chocolate glaze:
To make the glaze, place the cream in a saucepan over low heat. Add the chocolate and stir until melted and smooth. Pour the chocolate over the caramel and refrigerate until firm. Sprinkle with salt and cut into wedges to serve.
Cherry Chocolate Chunk Blondies
2 Packed Cups of Blanched Almond Flour
1/2 Cup Potato Starch
1/2 Cup cane sugar
2 tsp Baking Powder
1/8 tsp Salt
2 Tbs Oil or melted butter
3 Tbs Milk
1 Cup Chocolate Chips
1 Cup Cherries pitted and halved
Preheat oven to 350 degrees. Line a 8×8 baking pan with parchment paper. In a large bowl combine the Blanched Almond Flour, Potato Starch, sugar, Baking Powder, Salt , Milk and oil. Mix in chocolate chips and cherries into the dry ingredients with hands to get the dough to come together. Press dough into baking pan. Place in oven and cook for 40 minutes. The bars will be golden bread and firm to touch. Store in a sealed bag or container in the fridge or freezer.
Vegan Chocolate Fudge
1/4 cup raw cacao
2 tbsp. Perfect Coconut Oil
2 tbsp. maple syrup
1/2 tsp. vanilla extract
Himalayan sea salt, to taste
Vegan Peanut Butter Drizzle
1 tbsp. peanut butter
1 tbsp. maple syrup
1 tbsp. Perfect Coconut Oil
Himalayan sea salt, to taste
In a medium saucepan, melt coconut oil over low heat. Stir in remaining ingredients, excluding the sea salt. Stir quickly and until fully melted; the less time on the stove, the better. Pour into a heavily greases or paper lined baking tray and freeze for 30 minutes. While chocolate layer is freezing, wash the saucepan and heat the remaining coconut oil. Stir in peanut butter and maple syrup, working quickly, until smooth. Remove from heat and set aside to thicken. When chocolate layer has hardened enough (20 minutes), drizzle with peanut butter mixture and return to freezer for 10-20 minutes. This fudge stores well in the fridge but tastes best when stored in the freezer.
Gluten-free Brownies
6 tablespoons unsalted butter, cut into pieces, plus more for pan
1/3 cup cornstarch (spooned and leveled)
1/4 cup unsweetened cocoa powder
1/2 teaspoon ground cinnamon
1/2 teaspoon fine salt
12 ounces semisweet chocolate chips
3/4 cup sugar
1 teaspoon pure vanilla extract
3 large eggs
1 cup chopped toasted pecans
Preheat oven to 350 degrees. Lightly butter an 8-inch square baking pan and line with parchment paper, leaving a 2-inch overhang on all sides. Whisk together cornstarch, cocoa, cinnamon, and salt. In a large microwave-safe bowl, microwave butter and chocolate in 30-second increments, stirring each time, until melted and smooth. Stir in sugar and vanilla. Stir in eggs, one at a time, until combined. Add cornstarch mixture and stir vigorously until mixture is smooth and begins to pull away from sides of bowl. Stir in pecans. Pour batter into pan and smooth. Bake until a toothpick inserted in center comes out clean, about 35 minutes, rotating pan halfway through. Let cool in pan on a wire rack. Using paper overhang, lift cake out of pan and cut into 16 squares.
HOT FUDGE PIE
It is gooey and delicious.
1 stick butter, softened
1 c sugar
2 eggs
1 tsp vanilla
3 Tbsp cocoa powder
1 tsp salt
1/2 c all purpose flour
Preheat oven to 350 degrees. Cream together butter and sugar until fluffy. Add eggs and vanilla and mix well. Add cocoa powder, salt and flour and stir until combined. Grease 8 inch pie pan and pour mixture into pan. Bake 30 to 35 minutes until center is set.
Chocolate Torte with Pecan Crust
Chocolate Crust:
2 cups raw, unsalted pecans
1/4 cup cocoa powder
2 tbsp vegetable or coconut oil
1/4 cup agave nectar or maple syrup
1 tsp pure vanilla extract
1/2 tsp salt
Chocolate Avocado Mousse:
2 cups ripe avocado flesh (about 2 large or 3 small avocados)
1/3 cup almond milk
2/3 cup agave nectar or maple syrup
1 tbsp smooth peanut butter (or other nut butter)
1 tbsp arrowroot powder (or similar thickener)
1/4 tsp salt
1 tsp pure vanilla extract
1/4 cup cocoa powder
1 cup chocolate chips, melted
Line a 7-inch spring form pan with a circle of parchment paper. In a food processor, pulse the pecans until just chopped but still chunky. Add the rest of the crust ingredients to the food processor and pulse until combined. Pour mixture into the spring form pan and spread it evenly. Press down with your fingers or a spatula to create a firm, solid crust. Place in freezer.
In a food processor, combine the mousse ingredients except the chocolate chips. Pulse until completely smooth. In a small sauce pan on very low heat, warm the chocolate chips, stirring constantly until melted. Add the chocolate to the food processor and pulse until thoroughly combined.
Pull the crust from the freezer. Top the crust with the mousse and smooth it with a spatula. Place the torte in the freezer for at least two hours until firm.
When ready to serve, pull the torte from the freezer and let it sit for a couple minutes, until you can slice it with a knife.
Healthy Fudge Recipe

½ cup raw cacao powder (here)
½ cup organic coconut oil (here)
1/3 cup raw hazelnuts
1/3 cup raw honey
½ teaspoon vanilla extract
Chopped nuts
Pinch of sea salt
Put all the ingredients in a food processor and mix until smooth. Transfer to a glass baking dish lined with parchment paper and spread evenly. Sprinkle with chopped nuts of your choice. Place into the refrigerator and let sit until solid. Cut into squares and enjoy.
Make Delicious Healthy Chocolate
1/2 cup cacao powder
1/2 cup virgin coconut oil (melted).
4-6 tablespoons raw honey
Mix all ingredients well and put into molds. Place in the freezer for about 1 hour. Store in the freezer and take out a few minutes before serving. They taste amazing! You can use maple syrup and swap coconut oil for cacao butter (creamier version). Incorporate flavors like vanilla, salt, berries, and chopped nuts for variety.
Classic Chocolate Mousse
6 ounces bittersweet chocolate, roughly chopped
6 ounces unsalted butter
3 tablespoons water
4 large eggs, separated
½ cup, plus 1 tablespoon sugar
1 tablespoon black strap rum
1 tablespoon water
pinch of salt
¼ teaspoon cream of tartar
1 teaspoon vanilla extract
1 sprig of rosemary
Fill saucepan halfway with hot water and bring to a boil. Put a bowl on top of the boiling water (it shouldn't touch the  bottom) and melt together the chocolate, butter, water, and sprig of rosemary. Stir until smooth and remove from heat.
Fill a large bowl a quarter full with ice water and set aside. In a large glass or metal bowl placed over the saucepan of simmering water, whisk the yolks of the eggs with the 1/2 cup of sugar, rum, and water for about 5 minutes until the mixture is thick and opaque, like a runny Caesar dressing.
Remove from heat and place the bowl of yolk mixture in the bowl of ice water (make sure no water gets in the bowl!) Continue beating the yolk mixture until cool and thick, about 10 minutes. Remove the rosemary from the chocolate and fold the chocolate mixture into the egg yolks.
In a separate bowl, beat the egg whites with the salt and cream of tartar until frothy. Beat until they start to hold their shape. Whip in the tablespoon of sugar and  beat until thick and shiny, but not completely stiff, then add the vanilla.
Fold one-third of the beaten egg whites into the chocolate mixture, then fold in the remainder of the whites just until incorporated. Don't overdo it or the mousse will lose volume!
Transfer the mousse to a serving bowl or divide into serving dishes. Refrigerate for at least 4 hours, until firm. It can be refrigerated for up to 4 days.
Heavenly Nonfat Chocolate Honey Dip
1 cup nonfat sour cream
1/2 cup honey
1/2 cup unsweetened cocoa powder
1 teaspoon vanilla
In a small bowl, combine all ingredients until well blended. Cover and chill until ready to serve. Serve with assorted fresh fruits.
Easy Chocolate Gelatin Pudding
Serves 2
1 cup coconut milk (full fat, canned)
2 tbsp cacao powder or organic cocoa
1/2 tsp stevia powder extract or 2 Tbsp honey or maple syrup
1 Tbsp quality gelatin
2 Tbsp water
Add the coconut milk, cocoa, and sweetener to a pan over medium heat and stir with a whisk.
Mix the gelatin and water in small bowl.
Add the gelatin to the pan and stir until dissolved.
When the coconut milk mixture is warm transfer into two small ramekins or pudding cups.
Place in the fridge for 30-45 minutes (or freezer for faster setting).
Lavender Chocolate
3 cups of whole milk (non-fat would work, so would rice milk)
3 tablespoons of dried lavender
1 91% dark chocolate bar by Theo
Sugar to taste
Warm the milk over a medium-low heat in a small saucepan. Measure out three tablespoons of lavender. Mix the lavender into the warm milk so that it is fully coated and cook for about 15 minutes, until the room becomes aromatic, then spoon out the lavender pieces. Add the chocolate bar to the lavender-milk and slowly stir until they combine. Add sugar to the mixture to taste. Enjoy!
Chocolate Coconut Macaroons
1/4 cup organic sugar or coconut sugar
3 cups unsweetened coconut flakes
1 Tsp pure Vanilla extract (gluten free)
1 tsp Organic Almond Extract
3 extra-large egg whites, at room temperature
1/4 teaspoon Real Salt
Preheat the oven to 325 degrees F.
Whip egg whites. Mix the vanilla and almond extract into the egg whites. Mix in the sugar bit by bit. Carefully fold the coconut into the stiff egg whites. Drop the batter onto sheet pans lined with parchment paper. Bake for 15 minutes, until golden brown. Cool and serve. Makes about 15 cookies
For the Chocolate Dip:
Melt 6 oz 70% Dark Chocolate Organic Semi-Sweet Baking chocolate over a double boiler. When the macaroons are cooled dip one edge of the cookie into the chocolate. Place the cookie on parchment. Wait 10 minutes for the chocolate to set
Decadent Chocolate Tart
Vegan & Gluten-Free
Crust:
1 1/2 cups almond flour
3 Tbsp. brown rice malt syrup
3 Tbsp. coconut oil
1⁄4 cup raw cacao powder
pinch Himalayan sea salt
Filling:
1⁄2 cup raw cacao powder
3 Tbsp. coconut oil
1 cup brown rice malt syrup
pinch Himalayan sea salt
Blend all the ingredients for the crust and press into the bottom and sides of a tart tin. Freeze the tin. Combine all filling ingredients until smooth. Remove crust from freezer and pour filling into the crust. Return to freezer until set (an hour). Remove 5 minutes before serving. Refrigerate leftovers.
Chocolate Avocado Pudding
2 ripe avocados
2 tablespoons coconut oil
1/3 cup maple syrup or honey
3 dates soaked in warm water for 15 minutes and chopped
1/2 cup cacao powder
2 teaspoons vanilla extract
1/2 to 1 cup of almond or coconut milk
Toppings with
Chopped pistachios
Chopped walnuts
Chopped fresh strawberries
Raspberries
Fresh mint leaves
Sliced bananas
Shredded coconut
Add ingredients to a blender or food processor in this order: oil, dates, honey, vanilla, half your non-dairy milk, avocados, cocoa powder. Blend until smooth. Add milk until the pudding is the thickness you want. A little on the thin side is best since it will thicken after chilling. Spoon into ramekins, cover and chill.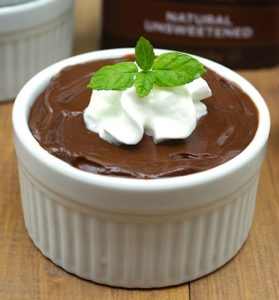 Chocolate Mint Avocado Pudding for Two
1 avocado
1 tsp cocoa powder
2/3 cup peppermint tea brewed
1 tsp stevia or other sweetener
sea salt to taste
Add ingredients to food processor and blend until creamy. Pour into serving dishes and top with a few berries, bananas, nuts and a little yogurt.
Chocolate Ice Cream
2 cups coconut cream or full fat coconut milk
300g (10.5 ounces) Frozen Banana
60g (2 ounces) fresh dates (pitted)
2 Tbsp. nut butter
2 Tbsp. cocoa powder
Place ingredients into a blender starting with the coconut cream/milk, cocoa, nut butter, dates, and finally the frozen bananas. Blend until smooth. Taste test to make sure it is sweet enough — if not, add a few more dates. Pour into an ice cream maker and process for 20 minutes until thick. Move into a freezer container and allow to set for 1-2 hours, then serve. If you don't have an ice cream maker, you can simply skip that step and move directly into a freezer container, but it will then require several hours to set. Don't let it set too solidly, but if that does happen, then allow to thaw for about 15 minutes before scooping into bowls.
Healthy Chocolate Bars
1 cup cacao powder
1 cup coconut oil
1 cup coconut palm sugar
Optional: almonds, coconut flakes, vanilla, cinnamon, peanut butter.
Mix everything together, put it in a pan, and stick it in the refrigerator to harden.
Keep it in the refrigerator or freezer because coconut oil will liquefy around 76 degrees, unless you want chocolate sauce.
Coconut palm sugar has a low glycemic index of 35. The glycemic index rates carbohydrates on a scale from 0-100 in terms of how quickly blood sugar levels rise after eating it. For comparison, an apple has a glycemic index of 40, high fructose corn syrup is 87, and fructose is 100. In general, the higher the glycemic index, the faster the food is absorbed which causes a rapid rise in blood sugar.
Cacao is the raw, unprocessed form of chocolate. In addition to containing more antioxidant flavonoids than blueberries, red wine, and black and green teas, cacao also contains vitamins, minerals, protein, fiber, and healthy fats! Use unprocessed cacao powder, not cocoa powder. Cocoa powder has been processed and stripped of most nutrients.
Coconut oil is a good fat. It is a medium chain fatty acid (MCT) unlike other cooking oils that are longer chain fatty acids (LCT).While LCTs are stored as fat, MTCs are burned up quickly and actually increase the body's metabolism, aiding in weight loss. The medium chain fats in coconut oil are very similar to the fats in breast milk and offer similar health properties. Coconut oil contains lauric aid which has anti-microbial and anti-viral properties.
Paleo Low Carb Fudge
6 oz of Dark Organic Chocolate
1/4-1/2 cup maple syrup or honey
1/2 cup grass fed butter
1/2 cup coconut oil
1/2 cup full fat coconut milk
1 tsp of vanilla extract
1/2 cup chopped walnuts
Melt the dark chocolate, butter, coconut milk and coconut oil over a double boiler with the maple syrup. Combine the melted chocolate mixture with the vanilla and chopped nuts. Put in a square dish and place in the fridge for 2-3 hours until firm.
Chocolate Raspberry Mousse
2 pounds bittersweet chocolate, broken into pieces
8 tablespoons unsalted butter
2/3 cup coffee
2/3 cup Kahlua
4 egg yolks
8 egg whites, at room temperature
8 tablespoons sugar
2 cups heavy cream
Melt together chocolate, butter, and coffee in a double boiler over simmering water, stirring occasionally. In a small bowl whisk Kahlua into egg yolks. Remove double boiler from heat, and gradually whisk Kahlua-egg yolk mixture into the chocolate. Set aside to cool. In a separate large bowl beat egg whites on low until foamy, then turn speed to high and beat until soft peaks form. Beat sugar one tablespoon at a time into egg whites, and spoon this over chocolate mixture but do not fold it in. Beat cream in the same mixing bowl with mixer on low speed until it thickens, and then beat it on medium speed until soft peaks form. Fold chocolate mixture with egg whites into cream. Cover with plastic wrap and refrigerate until mousse is firm (at least 4 hours).
Chocolate Shells
Scallop shells or like-sized shallow dishes
3/4 pound bittersweet chocolate
Cover back of scallop shells with aluminum foil. Melt chocolate in a microwave or double boiler. Paint chocolate onto foil with a pastry brush (leave a small space around the edge of the shell, which will allow chocolate to be removed more easily). Put shells into freezer until firm. Separate shell from chocolate and foil. Peel foil off chocolate, leaving a nice chocolate shell that needs to be kept refrigerated until used.
Raspberry Sauce
4 pints (8 cups) fresh raspberries
4 cups sugar
2 tablespoons cornstarch
Fresh raspberries for garnish
Puree raspberries into a saucepan. Add sugar and bring to a boil. Thicken with a mixture of cornstarch and water (2 tablespoons cornstarch dissolved in 1/2 cup water).
Put one scoop of mousse onto each chocolate shell, top with raspberry sauce, and garnish with fresh raspberries.
Granny's Cocoa Cream Pie
½ c. cocoa
¼ cup cornstarch/or arrowroot powder
3 egg yolks
1 ½ c. sugar
¼ tsp. salt
2 c. milk
1 tsp. vanilla
Mix cocoa, cornstarch, beaten egg yolks; sugar and salt, then add milk gradually, while stirring over med-high heat. Cook until thick, beating it smooth. Cream pies take some time to thicken, so stir… and stir (10-15 min). Using a heavy bottom pan helps. Just keep it up until it thickens. Pour into a pre-baked pie shell. Put in the fridge to chill, add whipped cream or use the egg whites for meringue!
Gluten Free Coconut Brownies
3/4 cup cocoa
2 eggs
1/2 cup maple syrup or honey
1 cup coconut oil, melted
1/2 cup full fat canned coconut milk
1 tsp vanilla extract
1 cup almond flour, heaping
1/2 tsp baking soda
1/2 cup shredded coconut
1/2 cup walnuts, chopped
Preheat the oven to 350 degrees. Mix the cocoa, eggs, sweetener, coconut oil, coconut milk and vanilla in a bowl. In another bowl combine the almond flour, baking soda, shredded coconut. Mix the two bowls together and pour into a square baking dish. Bake for 30 minutes and cool for 15 before serving.
Nourishing Dark Chocolate Gelatin Pudding
Gelatin is the protein formed after the slow simmering of skin, bones, and cartilage of animals. Gelatin broth has been used in healthy traditional cultures for thousands of years as a diet staple and is a very healthy product that can be used as a natural thickener for soups and smoothies.
Benefits of eating gelatin:
Contains easy to digest calcium, magnesium, phosphorus, silicon, sulphur and trace minerals
Speeds healing from seasonal cold's and flu's
Builds healthy bone matrix
Provides minerals for strong teeth
Supports joints, cartilage and tendons with Chondroitin and Glucosamine
Fights cellulite
Prevents wrinkles
Increases muscle mass
Speeds metabolism
Heals the intestinal lining preventing chronic disease
Supportive for over stressed thyroid and adrenal glands
Dark Chocolate Gelatin Pudding
2 Tbsp unflavored gelatin
1/2 cup cool water
2 oz unsweetened dark chocolate
1 can coconut milk (full fat)
1/2 tsp groung nutmeg
1 tsp cinnamon
1 tsp vanilla
10-12 drops of liquid stevia or 1/4 cup maple syrup/honey
Melt chocolate in a double boiler with coconut milk and sweetener until melted and mixed. Remove from heat and add vanilla and nutmeg. Mix the gelatin with 1/3 cup of warm water until dissolved. Add the dissolved gelatin to the chocolate mixture and stir well. Put the pudding into the refrigerator for one-two hours or until set and chilled.
Best Ever Chocolate Banana Milkshake
1 frozen banana
1 cup unsweetened almond milk
1 tablespoon raw cocoa powder
1 teaspoon vanilla
1/2 teaspoon cinnamon
1 scoop protein powder
Place everything in blender and blend until combined.
Paleo Chocolate Popsicle
2 cups coconut milk (full fat)
1/2 cup water
3 Tbsp cocoa powder
10-15 drops of liquid stevia or 2 Tbsp of raw honey
1/2 tsp vanilla extract
Mix it all with a whisk until the cocoa powder is dissolved. Pour it into popsicle molds. Freeze for 6-8 hours. Once frozen, dip the end in a bowl of warm water for a minute for it to come out smoothly.
Frozen Chocolate Custard (Low Carb/ Paleo Friendly)
4 pastured egg yolks
½ cup plus 2 tablespoons unsweetened organic cocoa powder
¾ cup equivalent sweetener
2 -13.5 oz cans full fat coconut milk
1 Tbsp grass fed gelatin
2 teaspoons pure vanilla extract
Add gelatin to a medium size bowl and pour one can of coconut milk over it. Allow to sit for 2-3 minutes until gelled. Place the egg yolks a mixing bowl. Pour other can of coconut milk into a saucepan over medium-low heat. Add the gelatin mixture to the pan and whisk to combine. Whisk in cocoa powder and sweetener. Heat coconut milk until it starts to bubble. Slowly add ¼ cup of the hot coconut milk to egg yolk mixture and continuously whisk to combine. Add remaining coconut milk, a little at a time. Don't add hot coconut milk too quickly or you will have scrambled eggs. Pour mixture into the saucepan and cook over low heat, stirring constantly. Cook the mixture for 5-7 minutes or until thickened. Remove from heat and add vanilla extract. Pour the mixture through a fine metal strainer over a bowl. Allow mixture to cool then cover. Refrigerate until cooled. Add mixture to the bowl of an ice cream maker and process according to the manufacturer's instructions.
Chocolate Pot de Crème
3.5 oz dark chocolate
2 cups coconut milk
3 organic eggs, beaten
1 teaspoon vanilla extract
2 tablespoons maple syrup
1 teaspoon rose water
1 teaspoon cinnamon and nutmeg
Melt the chocolate in the top of the double boiler. Add the coconut milk and the eggs to the melted chocolate, stirring continuously with a whisk. Add the vanilla, sweetener and rosewater. Stir continuously until thick, about 15-20 minutes. Put chocolate mixture into custard cups and refrigerate until set, about two hours.
Chocolate Avocado Mousse for Two
1 ripe avocado
1/4 cup unsweetened coconut cream chilled or whipping cream
3-4 tablespoons cocoa powder
1-2 teaspoons liquid stevia or powdered sugar for sweetener
Halve an avocado and scoop flesh into a food processor or blender. Add coconut cream, cocoa powder and stevia. Whizz for a minute until smooth. Taste and adjust the flavor with extra cocoa or stevia. Fill 2 desert cups and chill until ready to serve.
Molten Lava Chocolate Cake
4 oz semi-sweet or bittersweet chocolate
½ tsp vanilla extract
1/8 tsp salt
2 Tbsp sugar
1 tsp coconut flour
2 tsp cacao powder
2 eggs
4 Tbsp extra virgin coconut oil
Preheat oven to 375F. Grease four 6oz ramekins with coconut oil. If you wish to serve these cakes on a plate, you will need to flour as well (use coconut flour, blanched almond flour, or cocoa powder). Melt chocolate and coconut oil. Stir until smooth and let cool. In a small bowl, beat eggs, vanilla, salt and sugar until light and frothy. Pour egg mixture over chocolate. Sift cocoa and coconut flour over the top. Gently fold all the ingredients together. Pour batter into prepared ramekins (fill to within ½" of the top). Place the ramekins on a baking sheet and put in the oven Bake for 11-12 minutes. Remove from oven and serve immediately.
German Chocolate Cake
4 ounces Baker's German Sweet Chocolate
1/2 cup water
2 cups cake flour
1 teaspoon baking soda
1/2 teaspoon salt
1/2 pound unsalted butter, room temperature
1 teaspoon pure vanilla extract
1 1/2 cups granulated sugar
1/2 cup brown sugar
4 eggs, separated
1 cup buttermilk
Melt the chocolate in the water. Stir until smooth and set aside. In a separate bowl, sift together the cake flour, baking soda and salt. Set aside. Preheat the oven to 350 degrees F.
In the bowl of a stand mixer, cream together the butter, vanilla extract, granulated sugar and brown sugar until light and fluffy. Scrape down the sides of the bowl. Add egg yolks 1 at a time, beating well after each addition. Blend in the melted chocolate. Add the flour mixture and buttermilk, alternating, until just combined.
Add the egg whites to a small bowl and beat with an eggbeater until stiff peaks form. Gently fold the whites into the batter. Pour the batter evenly into 2 (9-inch) cake pans or 2 (12 capacity) cupcake tins. Bake about 30 minutes for the larger cakes and 15 to 20 for the cupcakes. Remove from oven to a cooling rack and allow to cool completely before filling and frosting.
Put a cake layer on top of a serving plate and top with a generous layer of the caramel/pecan filling. Cover the frosting with another cake layer of and spread with the frosting. Top with the final layer and frost.
Spread dark chocolate frosting (secret recipe), or your favorite chocolate frosting around the outside of the entire cake. Cut into wedges and serve.
Coconut Pecan Filling:
1 1/2 cups evaporated milk
5 egg yolks, slightly beaten
1 cup granulated sugar
1 cup brown sugar
2 teaspoons vanilla extract
1 cup butter
2 1/2 cups flaked coconut
2 cups toasted pecans
Combine evaporated milk, slightly beaten egg yolks, granulated sugar, brown sugar, vanilla and butter in a large saucepan over low heat. When the butter melts raise the heat to medium, stirring constantly. The mixture will thicken after 10 to 12 minutes. Remove from heat. Add coconut and pecans and cool before frosting the cakes.